High Temperature Materials for Dry and Submerged Applications to 700˚ F
25.03.2008
Metallized Carbon Corporation, a global leader in the manufacture of oil-free, self-lubricating materials offers Metcar grades M-343 and M-346 high temperature mechanical materials.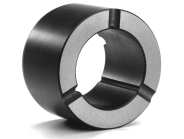 Metallized Carbon Corporation
These unique carbon/graphite Antimony impregnated materials are designed to operate in difficult environments where oil and grease lubrication cannot be used due to temperature limitations. This proprietary Antimony impregnation provides excellent wear resistance and enhanced lubrication for bearings and thrust washers operating in both submerged and dry environments.
Operating at temperatures up to 700˚ F these materials are designed for medium to high loads and are ideal for submerged applications including bearings and seal rings for pumps handling water, fuels, hydrocarbons, mild acids, alkalis, liquefied gasses, dyes, solvents and heat transfer fluids. Dry applications for these materials include seal rings for rotary steam joints, radial seal rings for compressors and blowers, components for high temperature valves and piston rings for gas compressors.
Bearings manufactured from Metcar are self-lubricating, non-galling, dimensionally stable and have high compressive strength. Boasting excellent lubricating qualities and wear resistance, these materials are completely homogenous and provide continuous lubrication for their service life, making them an ideal solution for bearings and mechanical components used in harsh operating conditions.
About Metallized Carbon Corporation
Since its inception in 1945, Metallized Carbon Corporation has been manufacturing high-quality, dependable bearing solutions for severe operating environments. With over 60 years of Application Engineering experience, Metallized Carbon offers the field expertise and data necessary to provide The Solid Choice for Lubrication in a wide variety of industries, supplying completely machined components as well as materials for customer machining. Metallized Carbon is ISO certified and produces the Metcar brand of solid, oil-free, self-lubricating materials.