High-Pressure Pump for the Food and Beverage Industry
In March of this year, KSB Aktiengesellschaft, Frankenthal, Germany, presented a new pump series by the name of Vitastage at the Karlsruhe LOUNGES 2010.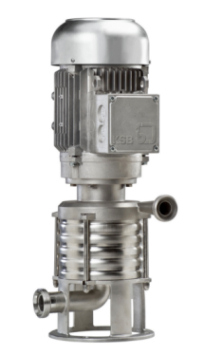 Vitastage is the name of KSB's new pump series for hygienic applications. (KSB Aktiengesellschaft, Frankenthal)
The new multistage high-pressure pumps are designed for processes involving demanding pressure conditions such as in feeding filters or membranes in reverse osmosis applications. The pumps are also suitable for supplying pressure to boilers and filling systems, as well as to mixers.
Besides as a horizontally installed model, the pump is also available in vertical design, which makes it ideal for confined spaces; this unit is self-draining. The strong stainless steel pump adds the necessary reliability to any process and makes Vitastage very robust. Since the discharge nozzle is mounted at the level of the last pump stage, the units achieve higher efficiencies than comparable inline designs with their many flow deviations. As they are made of high-grade stainless steels and have electropolished surfaces, the new pumps are easy to clean using CIP/SIP routines.
All elastomer seals are by design capable of withstanding a sterilisation temperature of 140 °C. The standard version can cope with a continuous operating temperature of 100 °C. Since 17 different pump sizes are available, it is possible to select for every application a pump whose operating point is close to the best efficiency point, thus ensuring energy-efficient operation. The pump generates a maximum flow rate of 40 cubic metres per hour and a maximum discharge head of 40 metres. Thanks to the variety of mechanical seal designs and FDA-approved elastomers, the user can choose the new type series for a large number of applications.