High Pressure 'Misting' Pumps for Mobile Fire Suppression System
John Dennis Coachbuilders have introduced a new fire-fighting system designed and constructed around Cat Pumps' high pressure triplex plunger pump technology.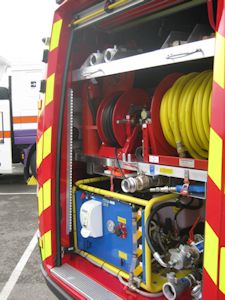 Cat Pumps
Designed to provide effective control of brush and grass fires, as well as incidents in industrial premises, the vehicle-mounted JDC Wildfire Attack System uses Cat Pumps' 5CP Series for generating a fine mist foam and water fire suppressant.
This Wildfire Attack system gives fire and rescue and emergency services greater accessibility to locations where fires breakout but cannot be easily accessed by large tenders. The compact system comprises a Cat Pumps 5CP piston pump coupled to a 13HP petrol engine, an adjustable foam concentrate proportioning system, pressure relief valves, foam dispensing guns and a foam concentrate tank. The foam proportioning system is exclusive to Cat Pumps and provides operators with the ability to control precisely the volume of foam used between 0% and 6% without interrupting the flow at the gun nozzle. This device results in faster knockdowns and laying down foam blankets, whilst optimising the foam concentrate.
Following the construction operation of a 4x4 demonstration vehicle, Guilford-based JDC have received an order for 17 rural response vehicles from the Mid and West Wales Fire Service. The demonstration vehicle is equipped with a 250 litre water tank and carries a 60m high pressure 3/8 inch hose, Cat Pumps twin foam gun, a variable stream gun, a jet spray lance and Cat Pumps 5CP pump which delivers 19 litres/min at 100 bar.
"The high pressure pump is central to the effectiveness of the complete system, so when we started out on our development programme we recognised that we could not compromise on quality and performance," comments Nick Uwins, JDC's Sales & Engineering Director. "With the guidance of Cat Pumps, we opted for their 5CP Series, not just because it is a very high quality and reliable pump, but because it has been used extensively on similar systems throughout the USA. We also specified Cat Pumps' twin foam guns as these have been developed specifically for fire-fighting duties. These can deliver a foam spray in excess of 12m, depending on the spray configuration, which can be selected either as a jet stream or a fine mist stream."
Cat Pumps' foam fire-fighting systems combine their high pressure triplex pumps with foam induction technology. The compact 5CP high-pressure, low-flow pump delivers a precise metered water/foam solution for quick fire suppression and provides increased time at the fire line, even with a limited supply of water. The pump and integral speed-reducing gearbox are suitable for mounting directly onto a petrol or diesel engine with an SAE parallel shaft and flange, providing a compact, reliable and efficient installation. Furthermore, the operating pressure can be preset before start-up and the engine speed can be controlled independently of the lance or foam gun power. In this way, operators have complete control of the speed and pressure of foam delivery to the fire.
The high pressure triplex pump breaks water droplets down to under 5% of a standard low pressure system droplet. This increases the surface area covered, extinguishing the flames more efficiently without wasting water and expensive chemicals. In addition, the high-pressure spray penetrates deep into roots for effective fire breaks and increased protection against rekindling.
The JDC Wildfire Attack System comes pre-assembled in a skid frame for connection to a water tank and is suitable for mounting on a wide range of pick-ups, transits and off-road 4x4 vehicles.