High Performing, Reliable Mixing Solutions for Water and Wastewater Applications
Including within its Lightnin range, SPX offers the reliable and cost effective Series 10 mixers. These mid-power units (up to 30 hp) offer a wide speed range that is ideal for varying sizes of channel and vessel.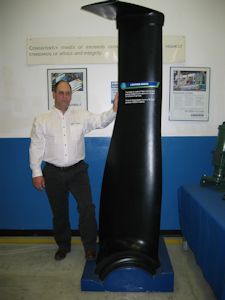 A6000 impeller blade (Image: SPX)
They are highly durable with strong housing and long bearing life; are well proven in the water industry, and are ideal in applications such as flocculation, chemical makeup, chlorine contact, anoxic mixing and smaller aerators.
The cost effective, parallel gear design of the Series 10 means these mixers can offer a reduced total cost of ownership throughout their lifetime compared with heavier drive solutions. Offering more than adequate speed and power for water duties, the mixers are easy to maintain with all components accessible from the top of the gear box. A tall pedestal configuration is also available that raises the gearbox up from the mounting structure to further simplify access and facilitate easy draining and change of lubricants. The Series 10 mixers also use a dry well construction that prevents lubricant from leaking into water streams.
For more arduous duties that have larger or shock loads, the Series 70 and Series 80 mixers with their helical change gears offer strong, reliable solutions. These units have bearings sizes far beyond AGMA requirements to give minimum maintenance and long service life and are ideally suited for rapid mixing or aeration applications where forces are much higher. The Series 80 is particularly designed with a shaft connection that isolates shaft deflections from the gear box. This means it can handle very high shock loads as experienced in, for example, aeration duty in large basins.
Lightnin impellers are among the most efficient available and can be matched with any of the gearboxes within the range to ensure optimum performance for a given application. The range of impellers available includes designs specific for the water industry such as the A333 'Clean Edge' impeller for handling fibrous sludge. The A245 impeller is designed to improve aeration efficiency by up to 20% through the use of an additional splash guard. The R335 impeller uses a low discharge trajectory to reduce splash and offers up to 25% improved efficiency compared with standard pitch blade turbine (PBT) impellers in aeration applications.
Using a composite shaft and its A6000 impeller technology, SPX also offers a metal-free shaft system that is ideal in corrosive, hostile environments. This light weight and chemically inert solution can be used to replace high alloys used in desalination processes. The A6000 is manufactured from high grade vinyl ester resin and is the most efficient impeller in the Lightnin range.
With the ability to combine gearboxes that are specifically designed for agitator and aerator uses with various, highly efficient impeller designs; SPX is able to provide a solution that gives optimum mixing results according to specific application needs. Its robust, highly reliable mixers have been shown to reduce the total cost of ownership and address specific challenges faced by the water industry today.