High-performance Pumps for New Indian Power Station
KSB Aktiengesellschaft is scheduled to supply a new, state-of-the-art coal-fired power plant located south-east of Pune in the West Indian state of Maharashtra with 16 pumps by November 2014.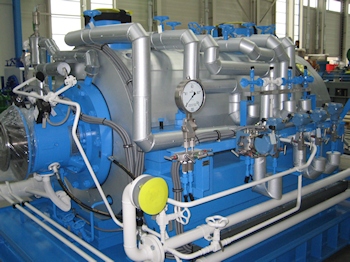 Multistage boiler feed pump from the CHTD series, similar to those destined for use in Solapur, India. (KSB Aktiengesellschaft, Frankenthal, Germany)
India s national energy authority is building the supercritical power plant comprising two 660-megawatt units in Solapur.
The contract includes delivery of four large turbine-driven duty pumps, four smaller start-up and stand-by pumps driven by electric motors, and eight booster pumps. The duty pumps maximum flow rate is 1,265 cubic metres per hour. The highest head as per project specifications is around 3,675 metres, and the operating temperature is 190 degrees Celsius.
The maximum input power of one of the turbine-driven boiler feed pumps ranges at 13,200 kilowatts depending on the operating point. Each boiler feed pump is supplied with the required inlet pressure via its own booster pump. The total weight of a complete unit of this type is between 40 and 50 tonnes.
One reason that the Frankenthal-based pump manufacturer won this technically demanding and strongly contested order was that it had successfully equipped the Indian power plants Sipat and Barh, operated by the same energy utility, with pumps and valves.