High-performance Pumps for Large Dutch Power Station
By September 2012, KSB Aktiengesellschaft, Frankenthal, Germany, will supply boiler feed pumps for the newly built units A and B of the Dutch coal-fired power station at Eemshaven.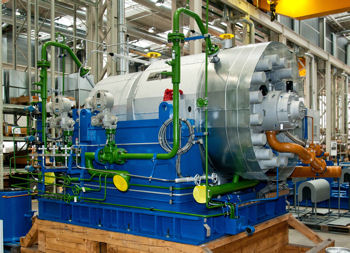 Six-stage boiler feed pump type CHTD similar to the ones to be supplied to Eemshaven, Netherlands. (KSB Aktiengesellschaft, Frankenthal, Germany)
On the Ems estuary, some 30 kilometres to the north-west of Emden, a German energy supply utility is building an ultra-modern power plant consisting of several 800 MW units which will generate electricity for the Dutch market.
The order with a value of several million euros is for two units, each consisting of a turbine-driven main boiler feed pump, a geared booster pump, a minimum flow system and sound insulating hoods. The total weight of each unit is upwards of 60 tonnes. The pumps are driven by speed-controlled steam turbines, whose speed can be varied depending on the actual need for feed water between 2,400 and 4,680 revolutions per minute with the possibility of running up the speed to 5,400 revolutions for short periods of time. Depending on the operating point, each unit has a maximum drive rating of 38,265 kW. This makes the pumps some of the most powerful boiler feed pumps ever built in the world. The flow rate of each pump will come to about 2,500 cubic metres per hour. The planned discharge pressure will be approximately 350 bar and the temperature of the fluid pumped will be around 190 degrees C. The pumps are classified as so-called "100 percent pumps". This means that there will be no redundant units and that the main pumps will be equipped with temperature monitoring and vibration sensors. These will inform the plant operator about the condition of all technically relevant components at all times. Some of the fuel used to fire the new power station can be replaced with biomass.
The station, scheduled to go online starting in 2013 with a gross power output of 1,600 MW, will generate electricity for 3.2 million households per annum. The Frankenthal-based pump manufacturer received the order for this ambitious project, among others, because of the many pumps and valves supplied for the same energy supply company's numerous other power stations in the past.