High-Performance In-line Pumps for Skyscrapers
Since land prices are steadily rising, there is a continued trend in the building industry worldwide towards ever higher skyscrapers. As a consequence, the demand for high-performance circulating pumps for HVAC systems is on the increase, and the new Etaline-R in-line pump series of KSB is suited to meet this demand.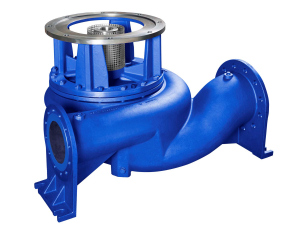 On the new in-line pumps PumpMeter will identify energy savings potential, too. (Image: KSB)
Thanks to its compact in-line design, this pump type requires significantly lesser expensive space than conventional long-coupled models.
The new Etaline-R type series comprises 14 pump sizes and its maximum motor rating is 315 kW. The pump series generates a maximum flow rate of 1,900 cubic metres per hour and a maximum discharge head of 97 metres. The nodular cast iron casing and the mechanical seal are designed for operating pressures of up to 25 bar each, an indispendable prerequisite since the high-rise buildings' static head often makes it necessary for the piping systems to be designed for 25 bar.
The mechanical seal employed is available in a large number of material variants. The maximum operating temperature should not exceed 140 °C. Each pump is delivered with an impeller whose diameter has been matched to its operating point. This ensures that the pumps achieve the best efficiency point and will not be oversized, as is usually the case with ready-made impellers. In addition, each pump set features an IE2 electric motor whose high efficiency contributes to the new type series cost-effectiveness.
Replaceable casing wear rings on discharge and suction side make for ease of service and maintenance even after long years of operation. Up to a motor rating of 45 kW, motor-mounted speed control systems type PumpDrive can be supplied optionally. For higher ratings, the speed control system is traditionally integrated in a control cabinet.
The new pump series will be presented at this year´s ISH trade fair in Frankfurt/Main, Germany (15 to 19 March 2011).