High Molecular Weight – With Dry Vacuum Pumps
The award-winning SIHIdry vacuum pump has dramatically reduced running costs and helped to ensure that only the finest quality fish oil additives are produced in the UK Staffordshire plant of Croda Leek Limited.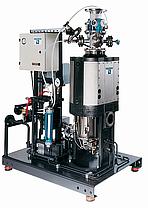 Source: Sterling Fluid Systems
This company is a highly renowned and respected manufacturer of quality emulsifiers, esters and raw materials for the food, plastics, textiles, cosmetics, pharmaceutical, nutritional supplement and other associated industries. One of Croda Leek's important products is a high molecular weight fish oil. The Sterling SIHIdry pump is used to pull vacuum on the oil refining process, effectively removing unwanted, low-molecular weight oils by low temperature vaporation.
Croda's maintenance management is delighted with the pump's performance and stated that the SIHIdry has proved to be excellent for the application, and has already brought considerable savings in both running costs and production down-time.
Sterling's SIHIdry, the world's first totally dry vacuum pump, is ideal because its innovative design and control system allows it to operate well below 135ºC. The T4 (BS/EN 60079 Part 14) classification also permits its use in certain hazardous areas. Low temperature operation prevents carbonisation of the fish oil within the pump, and helps to ensure a totally pollution-free product.
Not only this, but the SIHIdry has no mechanical seal to fail and no timing gear requiring lubrication or through which oil can be lost. Its maintenance and running costs are expected to be many thousand of pounds a year lower than those of other mechanically sealed and geared dry vacuum pumps that operate at higher running temperatures.
The complete absence of any leakage from this self-contained unit, and the fact that there is no spent lubricant to dispose of, brings additional environmental benefits.
SIHIdry totally dry vacuum pumps offer numerous advantages which include: easy low-frequency maintenance; built in diagnostics with integrated control and monitoring; infinitely variable operation to match the process; the ability to handle up to 100% liquid carry-over; accurate temperature control; low noise levels; high vacuum and suction capacities; totally leak-free operation with no lubricating or operating fluids and electronically synchronised non-touching/no-wear high speed rotors. All these benefits are fully supported by Sterling's application and service organisation.