High-Efficiency Circulator Pump in XXL Size
KSB has extended its range of high-efficiency glandless pumps and will present its new, large pump sizes of the Calio series at this year's ISH trade fair in Frankfurt, Germany. The portfolio now covers flow rates up to 50 m³/h at heads of up to 18 metres of water and will eventually accommodate flow rates of up to 70 m³/h. The pumps are driven by electronically commutated canned synchronous motors.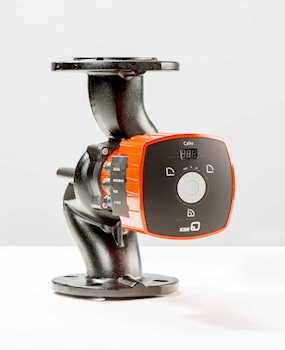 KSB will showcase its new, large pump sizes of the Calio series at this year's ISH trade fair in Frankfurt, Germany. (Image: KSB)
As standard all pump sizes come with interfaces and functions to process the common building services signals. Such as the Modbus interface, which makes it easy for all Calio pumps to be integrated in automation systems. Without additional software or hardware modules two pumps, one used as duty pump, the other as stand-by, can be operated in parallel with automatic changeover in the event of a fault as well as timer-controlled pump changeover. Often this allows investment and commissioning costs to be kept to a minimum. Other product-integrated analog and digital interfaces are also available.
In addition to the familiar operating modes of constant-pressure control, proportional-pressure control and fixed-speed operation, the newly developed operating software comprising an integrated energy-saving function called Eco Mode further saves the user considerable costs.
The user interface combined with an integrated display and symbols indicating the operating mode provide a high comfort of operation. The user is shown the current power input in watts and the flow rate in cubic metres. Just like the smaller Calio sizes, the new pumps satisfy all current efficiency regulations.
The fluid temperature range from -10°C to +110°C makes the new pump sets suitable for a wide variety of applications, from heating water to coolant transport and industrial recirculation systems. The pumps are standard-equipped with thermal insulation. As an option, they can be supplied with diffusion-tight insulation for cooling applications. Their flanged design makes them easy to install, even in confined spaces.