HI Works with SWPA to Publish New Ansi-Approved Submersible Pump Test Standard
The Hydraulic Institute (HI) has published a new American National Standard for Submersible Pump Tests (ANSI/HI 11.6-2001), addressing a long-standing challenge in the wastewater pump industry for development and acceptance of a test standard written specifically for submersible pumps.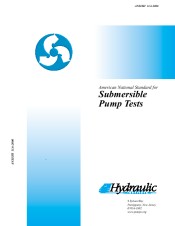 Recognizing that its members manufacture the majority of submersible wastewater pumps in the United States and that most of their companies are also HI members, the Submersible Wastewater Pumps Association (SWPA) took the lead in developing the new test standard, which was then circulated to HI and approved by the American National Standard Institute (ANSI). SWPA established a dedicated Test Standards Subcommittee, which worked for more than three years to develop this test standard, based principally on the Centrifugal Pump Test Standard (ANSI/HI 1.6-2000). Similarly, HI organized a Submersible Test Standard Committee that addressed the review of this document and finalizing the standard through the HI/ANSI approval process.
The 46-page standard applies to the testing of centrifugal submersible pumps that are driven by induction motors. It is limited to close-coupled impeller pump/motor units, designed to operate submerged in liquid. Submersible pumps operating in either a wet-pit or dry-pit environment are included.
"The Submersible Pump Test Standard represents 'a first' HI/SWPA standards collaboration between SWPA and HI," said Gregg Romanyshyn, Technical Director for HI. "SWPA members' knowledge of submersible wastewater pumps, together with HI's expertise and ANSI-approved canvass method, have resulted in a unique test standard that will be accepted and utilized by all segments of the wastewater industry. Most members of SWPA are also members of the Hydraulic Institute."
Especially beneficial to pump purchasers, users, and manufacturers during the specifying and testing process, the Submersible Pump Test Standard provides recommendations for proper test selection. Procedures for performance testing, hydrostatic testing, net positive suction head required (NPSHR) testing, submersible motor integrity testing, and vibration testing are all described in the document. Uniform methods of data recording and reporting are also discussed.
In addition, the standard provides guidelines for situations in which the test facility is unable to test at rated speed due to limitations such as power, electrical frequency, or flow capability. In addition, piping arrangements for wet pit performance testing and dry pit performance testing are illustrated.
Romanyshyn noted that acceptance tolerance criteria is always an important consideration in any type of pump performance testing. "The performance test has two levels of acceptance, and depending on the specific application and user requirements, the applicable level is indicated in the contract documents. A default level has been included in this standard for just such cases."
The standard, designated by HI product code M126, is available from the Hydraulic Institute for $55.00. The standard is available in secure PDF format or can be ordered in hard copy from the e-Store on the HI web site: www.pumps.org. The on-line service provides virtually instant access to HI pump standards as PDF documents on a worldwide basis.
The complete set of HI standards includes 23 documents, over 1,250 pages in length, which are available as individual standards, as four different pump type sets, or in complete hard-copy sets. The complete set is also available in a CD-ROM format with a comprehensive index with valuable hypertext links for easy reference.
HI Pump Standards are reliable, widely accepted references for anyone involved in pumps, including users, consultants, contractors, construction firms, manufacturers of pumps, seals, motors, instrumentation and controls. According to an HI survey, 83 percent of pump tests specified used HI standards. Currently, the Institute provides test standards for centrifugal, vertical, rotary, reciprocating, sealless centrifugal and sealless rotary pumps.
The 85-year old Hydraulic Institute, the largest association of pump producers in North America, serves member companies and pump users by providing product standards, and forums for the exchange of industry information. For more information on the Hydraulic Institute and its line of products available through the e-store, services, standards, publications and meetings, visit the HI web site at www.pumps.org. Requests may also be faxed to (973) 267-9055 or mailed to Hydraulic Institute, 9 Sylvan Way, Parsippany, NJ 07054. Visitors to the HI web site are invited to sign the HI Guest Book for future notices of new standards, on-going energy savings tips and updates on educational offerings.
SWPA is a national trade association representing and serving the manufacturers of submersible pumps for municipal and industrial wastewater applications. It is estimated that SWPA member companies ship 75 to 80 percent of those products in the United States. For more information about SWPA, visit www.swpa.org or contact the Association at 1866 Sheridan Road, Suite 201, Highland Park, IL 60035-2545; phone (847) 681-1868, fax to (847) 681-1869 or e-mail swpaexdir@netzero.net.
Facts
Submersible Pump Test
ANSI/HI: 11.6
ISBN: 1-880952-51-3
Order Code: M126
Publication Date: 2001/2002
ID #: M126
Price: $55.00 each