Her Royal Highness Princess Maha Chakri Sirindhorn Presided Over the Official Opening of the 10th Edition of the International Petroleum Technology Conference
Her Royal Highness Princess Maha Chakri Sirindhorn presided over the official opening of the 10th edition of the International Petroleum Technology Conference (IPTC), hosted by PTT Exploration and Production Public Company Limited (PTTEP), at the Bangkok Convention Centre at CentralWorld, Bangkok.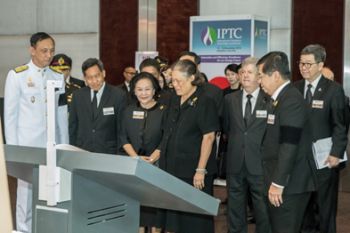 Her Royal Highness Princess Maha Chakri Sirindhorn presided and officiated the 10th International Petroleum Technology Conference (Image: IPTC)
The IPTC Excellence in Project Integration Award was the highlight of the second day. Her Royal Highness Maha Chakri Sirindhorn presented the award to Total's Laggan-Tormore development, offshore West of the Shetland Islands, UK and also visited the exhibition at the conference.
His Excellency General Anantaporn Kanjanarat, Minister of Energy, Thailand gave a keynote speech on the energy challenges in Thailand, especially in oil and gas, which is crucial in driving the Thai economy and enhancing the country's competitiveness. Domestically-produced natural gas accounts for more than half of the national gas supply that not only enriches security of supply, but also relieves the public cost burden because of volatile prices of imported energy resources. At present, the Ministry and the industry are working jointly to overcome current industry challenges. Extensive expertise, technical capabilities and continuous innovation have proven to be key in this collaboration and is in line with the Thailand 4.0 Policy. The policy aims to utilise innovation, technology and creativity to help Thailand transform into a knowledge-based society with value-based economy, ideally requiring less resources to create more value. General Anantaporn reiterated that IPTC is a great opportunity for participants to exchange their ideas and experiences, as well as opportunities for collaboration on innovation and efficiency improvement, delivering a win-win solution for the industry and the country.
The IPTC Excellence in Project Integration Award winner is the pioneering £3.5 billion Laggan-Tormore development unlocks the harsh Atlantic Margin play, opening up a new gas province for the UK. The Laggan and Tormore fields lie 140kms north-west of Shetland. In water depths that descend rapidly from 120 metres to more than 600 metres, Total implemented the longest subsea-to-shore development ever seen in UK waters. On reaching the shore, gas is processed at the Shetland Gas Plant. This facility and associated infrastructure has the capacity to process gas from future developments. The project was executed using new technologies to overcome a harsh environment. Interesting innovations saw new methods of environmental protection deployed on a huge scale. Laggan-Tormore now meets 8% of the UK's daily gas requirements. Total (60%) operates the fields, in partnership with Dong Energy (20%) and SSE E&P (20%).
The comprehensive technical programme continued with 2 panel sessions focusing on the best ways to access resources and HSSE best practices, 20 multi-disciplinary technical sessions and over 25 on-the-floor technical presentations covering various E&P topics.
IPTC also hosts a leading-edge exhibition showcasing numerous interesting innovations and technologies from over 30 oil and gas companies worldwide, including Baker Hughes, China National Petroleum Corporation, Halliburton Energy Services Inc., Kuwait Oil Company, Mitsui Oil Exploration Co, Ltd, Mubadala Petroleum, PETRONAS, PTTEP, Qatar Petroleum, Schlumberger, Weatherford and many more.
IPTC continues tomorrow with another panel session, an Ask the Expert session and multiple technical sessions and presentations.