Hedland Expands EZ-View® Flow Meter Product Line
Hedland Flow Meters, the leader in flow measurement solutions, has expanded its EZ-View Variable Area Flow Meter product line. EZ-View is now available to measure air and other compressed gases in addition to the traditional line of oil and water flow meters.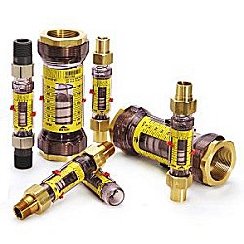 The newly enhanced EZ-View complements Hedland's vast selection of flow monitoring equipment by offering a low cost alternative to monitoring flow. Constructed of high-impact polysulfone plastic, the simple variable area flow meter contains a minimum number of moving parts, offering a reliable, trouble-free flow rate indicator to monitor a wide range of liquids and gases.
Additional features include:
Accuracy within ±5% of full scale
Repeatability within ±1%
Easy, low cost installation and maintenance
Cost effective flow measurement solution
Operates in any position
No flow straighteners or special piping required
Futhermore, Hedland has engineered an EZ-View Flow Meter capable of fitting pipe sizes 1-1/2" and 2" besides the popular 1/2", 3/4" and 1" models. The new larger units offer flow ranges of 2-25 GPM up to 10-100 GPM for liquids and 35-200 SCFM up to 140-1000 SCFM for gases.