Heat Exchanger Range Given Armstrong's Low Cost, Low Carbon Seal of Approval
The PHE X-Series of high efficiency plate heat exchangers is the second launch under Armstrong's ECO:nomics low cost, low carbon solutions brand.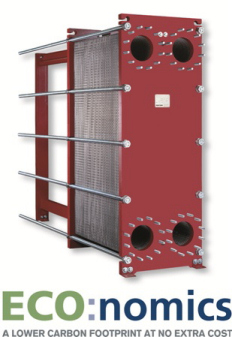 Armstrong
The PHE range has been accredited by the company as an ECO:nomics solution based on its ability to achieve excellent regeneration rates, up to 90%, for a range of HVAC heat transfer applications, without carrying a premium price tag.
The PHE X-Series achieves these results by flowing the two media in opposite directions (counter-current) with high turbulences and optimised corrugation of surfaces. In addition, the higher heat transfer coefficients mean that the X-Series plate heat exchangers deliver the same or better performance with a lower surface area, to take up less space in the plant room. For a typical cooling application of 1500kW, for example, the SX96 provides the most compact solution for a given capacity.
The units react rapidly to system demand changes, for optimum occupant comfort, and the reduced down-time and longer life-span (made possible by corrosion resistant materials and anti-scaling effect) make for effective performance with low maintenance throughout the lifetime of the system.
All units in the range hold the relevant safety certification, and heat transfer plates can be added, replaced or removed easily to maintain or increase the system performance. Gaskets are vented between passages to ensure there is no cross contamination of the fluids.
The units are designed for ease of maintenance, with all four system connections on the fixed heads to make it possible to maintain the unit without having to break the connection piping. Plates can also be removed and installed from one side of the unit, so heat exchangers can be installed in a corner of the plant room if required to make best use of space.
Installation of the units is quick and simple. Connections are typically on the same plane for easy piping, and studded flanged connections reduce piping loads on the plate heat exchanger. Units can be certified at the factory and then shipped disassembled for delivery and installation in tight quarters. The vertical piping arrangement (inlet on top and outlet on bottom), makes them ideal for condensing steam service.
The range encompasses units for maximum flow rates from 3.5 to 630 litres per second, for duties up to 15,000 kW. The range also includes double-wall transfer plates for domestic water applications. Multiple plate geometrics are available to provide the optimum heat transfer solution for the application.
Wayne Rose, Marketing Manager of Armstrong said, "We have selected ten low carbon solutions from our range to be delivered to market under our ECO:nomics brand, and the PHE heat exchange range is an ideal fit. The ECO:nomics brand has been launched to help customers identify products 'at a glance' which will assist in achieving low carbon performance for their installation without escalating the capital cost."
The first ECO:nomics product to be launched by Armstrong was the IPS controller which offers energy savings of up to 47.5% (compared to a constant speed, constant volume system) by delivering advanced control technology in systems incorporating variable speed drive pumps.