HANNOVER MESSE 2021: Analog. Digital. Hybrid.
When HANNNOVER MESSE opens its doors in April 2021, companies will once again have the opportunity to bring their products to life at the world's leading trade fair for industrial technology – analog, digital and hybrid.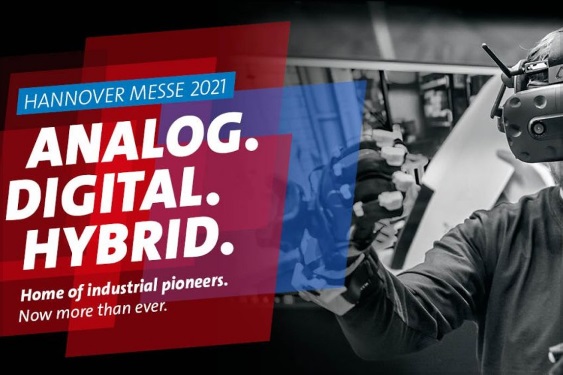 HANNOVER MESSE 2021: Analog. Digital. Hybrid. (Image source: Deutsche Messe AG)
"Industry needs trade fairs! The past few months have shown that. Industrial companies are eager for a place to present innovations, expand networks, discuss economic policy challenges, and win customers," says Dr. Jochen Köckler, Chairman of the Managing Board, Deutsche Messe AG. "HANNOVER MESSE 2021 provides this. With its combination of analog and digital worlds and a comprehensive hygiene concept, the world's leading trade fair for industry is the central platform for innovation and orientation in the age of industrial transformation."
HANNOVER MESSE provides all exhibitors with the package that suits them best, from an analog exhibit to hybrid combinations to a purely virtual presence. The exhibitor decides how he wants to participate in the show during the corona pandemic.
"Our exhibitors often tell us it is almost impossible to reach new customers without trade shows. They need a fixed date in the calendar when people come together to find innovation and orientation," explained Köckler. "That is the DNA of the HANNOVER MESSE brand and it is a promise it will honor in 2021 – analog, digital and hybrid."
For exhibitors and visitors who are unable to travel, HANNOVER MESSE offers new options in the digital space. For example, online streaming studios and hybrid formats combine the physical exhibition hall with the virtual realm. "In addition to our expertise staging trade fairs, we also have digital know-how, which we demonstrated this year with the HANNOVER MESSE Digital Days," stated Köckler.
As a stage for economic policy, HANNOVER MESSE continues to enable intense discourse between business, science and politics and thus contributes significantly to industrial transformation – the event's lead theme. In order to drive this process forward, decision-makers from business and politics meet at the exhibition grounds or one of the high-level online conferences. "Never before has the relationship between politics and business been more important than it is today. Here, too, we will develop the appropriate formats and unite the best of the analog and digital worlds," declared Köckler.