Grundfos Complements Magna3 Program
Grundfos has expanded the new generation Magna3 which was successfully introduced last year, with a range of additional sizes and designs.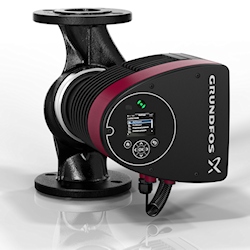 Magna3 (Image: Grundfos)
New to the program are now smaller sizes from a nominal diameter of DN 32, and additional versions for pipe fittings in 1 and 1 ½ inches. In addition, the Magna3 is available from autumn 2013 with a differential temperature control (with a second temperature sensor). With more than 200 models, valuable additional functions and best-in-class energy efficiency the circulator pump covers a very wide range of applications in heating, ventilation and refrigeration services as well as industrial applications.
With an energy efficiency index (EEI), well under the Best-in-class benchmark of 0.20 the Magna3 is more than just EuP-ready . It is far more efficient than the directive demands today and even will demand from 2015, so the Magna3 offers substantial savings even when exchanging relatively new existing pumps. This is achieved, among other things by the advanced motor design with a permanent-magnet rotor made of Neodym and the realignment of the hydraulics through the intelligent AutoAdapt function with self-adapting characteristics.
By extending the model range, the benefits of Magna3 can now be applied in more applications. Nine newly added smaller sizes of Magna3 25-40 up to Magna3 32-100 are available as versions with pipe fittings. So in total over 90 individual pump versions are available in cast iron or stainless steel with nominal diameters from DN 25 to DN 100 and for nominal heads of 4 m to 18 m. There are also 50 double-pump pump models that communicate wirelessly with each other and can operate in both alternating and standby operation, as well as in parallel operation at peak load. Versions in PN 16 are also available.
Thus the Magna3 delivers capacity, which can otherwise only be achieved with much more expensive dry-running pumps. In addition, by the thermal decoupling of the control unit the Magna3 is appropriate for temperatures between -10 ° C and +110 ° C, and is therefore also suitable for cooling applications.
Installation and optimum operation can be greatly facilitated by the intelligent AutoAdapt function. In addition, limiting the flow of the pump is possible either as FlowAdapt control with self-adapting characteristics, or via the switched FlowLimit function in conventional types of control. As of autumn 2013 a differential temperature control will also be available. Another feature is the possibility to detect the amount of heat in conjunction with an additional, external temperature sensor. This helps monitor unnecessary heat loss in the system and can be used for internal cost center assignment.
The pump is operated via a high-quality TFT display with clear menu structure and helpful assistance and diagnostic functions. Thus, alarm and fault events are stored as well as operating conditions with the date and time on the display and can even be partially represented in clear diagrams. The Grundfos GO offers even more parameterization and diagnostic possibilities, available as an app complete with iPod Touch or for your own iPhone or Android smartphone. It communicates with the Magna3 via fast radio link and offers convenient access to all operational data, settings and messages of the pump (even older Grundfos pumps with electronic control via infrared communication). Pumps in larger installations can be comfortably managed by using grouping and the cloning of settings.
Apart from the GO remote radio interface, via which two individual pumps can also communicate wirelessly with each other, the Magna3 provides a variety of possibilities for control and integration into the building management system. They range from analogue and digital inputs to relay outputs (for example in parallel for operation and fault signals) to optional CIM modules for common fieldbus protocols which only need to be plugged into the terminal box.