Griswold's Model 811LF ANSI Pump Solves Problems Inherent In Low-Flow Applications
Realizing that standard ANSI pumps are not ideal for low-flow, high-head applications, Griswold Pump Company has developed the Model 811LF (Low-Flow) line of ANSI pumps for use in the severe conditions that are found in many process and transfer applications.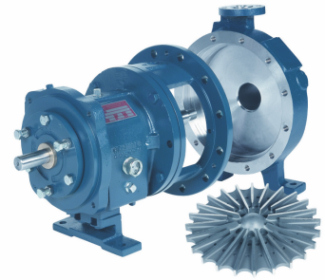 Griswold's 811LF ANSI Pump
The Model 811LF pumps feature flow capacities as low as 4 gpm with heads as high as 920 feet. This is made possible through a design that offers a circular concentric volute casing in conjunction with a radial vane impeller. This reduces excessive radial loads and minimizes shaft vibration and deflection, which leads to extended mean time between preventive maintenance operations. Class 150 raised-face (RF) flanges are standard on Models LF1.5x1-8AA and LF2x1-10A05, while Class 300 RF flanges are standard on Model LF3x1.5-13A20.
When operating in reduced-volume conditions, the 811LF's radial vanes provide better hydraulic control than traditional ANSI impellers. The manufactured-in balance holes also reduce both axial thrust and seal-chamber pressure, extending seal and bearing life.
Additionally, Griswold's Model 811LF pumps are ANSI-dimensional so that they can be installed without piping or base changes to existing equipment. In fact, since all other parts and features are identical/interchangeable within the entire 811 ANSI product line, the 811LF case and impeller can be retrofitted to an existing Griswold pump, as well as thousands of other ANSI pumps already in service.
About Griswold
Griswold Pump Company is a full-line pump manufacturer with product lines dating back more than 70 years. Included among its industry-leading pump lines are ANSI, end-suction centrifugal pumps, self-priming pumps and submersible/vertical turbines. These pump styles allow Griswold to serve a broad range of chemical process, industrial and municipal applications. Griswold Pump Company—headquartered in Grand Terrace, California, USA—is a member of Dover Corporation's Pump Solutions Group (PSG).