Green efficiency in Dublin's Central Bank
High performance, long-lasting sustainability and energy efficiency: the Central Bank campus in Dublin unites these three aspects. Located in North Wall Quay in Dublin Ireland, the modern building provides a state-of-the-art workplace, facilitating open communication and promoting teamwork at every level. Germany-based technology expert Wilo has equipped the new campus with green pumps, and thus contributes to the building's environmental efficiency.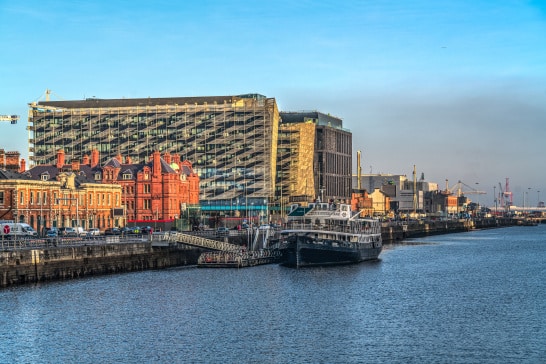 Central Bank Dublin (Image source: William Murphy_Flickr)
The Dublin Docklands is spread over 520 hectares north and south of the Liffey. High employment prospect possibilities have attracted people and businesses since the late 18th century. What used to be a landscape of ship funnels, cranes, pubs and stables, has been transformed into a gleaming, modern business hub due to urban regeneration over the past years. North Wall Quay is located on the northern side of Dublin, including the International Financial Services Centre (IFSC). Since 2017, the new headquarters of the Central Bank of Ireland have been located here. The sculptural profile of the new building reflects the maritime setting and new civic identity of the Dockland area. The building is wrapped in a glass skin, which is shielded from glare and solar heat gain by an outer layer of anodized aluminium triangular mesh panels. Those panels contribute significantly to the overall energy performance by reducing the impact of solar heat and thus also reducing the energy needed for heating and cooling. The façade is broken down into a number of elements: a double glazed unitised inner skin, an outer solar shading skin, the unique glazing system and a rain screen cladding. North Wall Quay is the first office building in Ireland to achieve the Building Research Establishment's Environmental Assessment Method (BREEAM) 'Outstanding' rating at design stage. The building energy rating (BER) is targeted to A2, which equates to a 72 % improvement in energy consumption over previous building regulation baselines. Effective insulation also reduces the energy consumption, the environmental impact is held on a low level by using energy from renewable sources. Annual energy savings according to the BER A2 rating is 209 tonnes of CO2.
Covering the complete life cycle
Green Wilo pumps also contribute to the overall efficiency of the new headquarters - from heating and cooling to cold water supply and products for rainwater harvesting. "Central Bank campus is a green building, certified by BREEAM, the world's leading sustainability assessment method. The bank itself had set a number of objectives when it came to the sustainability of the building – one of our main requirements was to only provide high-efficient pumps with efficiency class IE4 to ensure compliance with BREEAM criteria", says Derek Elton Managing Director from Wilo Ireland. The Wilo-Stratos GIGA series included for example is an electronically controlled glanded single pump in Inline-design using EC motor technology for increased operation efficiency along with the Wilo-IL-E series used for pumping the heating and chilled water systems. The Wilo-SiBoost Smart 3 Helix EXCEL series are in operation for cold water applications including rain water harvesting. The compact high efficiency pressure boosting system consists of vertically-mounted stainless steel high-pressure multistage centrifugal glanded pumps for which each pump has an integrated frequency converter for maximum efficiency of operation. These packaged booster systems include ready for connection stainless steel pipework base frame mounted and an automatic control system with all necessary measurement and adjustment facility. For a reliable operation in the HVAC applications several Wilo-Stratos models are used. Recently, Wilo Ireland has also been awarded with the service contract for the new campus: "As a global specialist for pumps and pump systems, we offer a wide variety of services to help our clients optimising and securing their processes", explains Derek Elton. "Caring about our customer is an ongoing process. It is our understanding that our services cover the complete life cycle of our Wilo products – to live up to the sustainable requirements of our customers." The Central Bank of Ireland also takes a pro-active approach to managing environmental obligations, which results in e.g. rainwater harvesting at North Wall Quay campus. This method is a simple and smart way to collect rainfall for further usage. Capturing the water can help recharge local aquifers or avoid urban flooding and thus create a sustainable water management.
The Dockland Campus
The building provides a modern workplace facilitating open communication, promoting teamwork and interaction at every level. The heart of North Wall Quay is the atrium, featuring collaboration spaces. More than 1,400 people work at the eight floor building. Central Bank set a number of objectives for the design of the building: apart from establishing a productive workplace, it was of outmost importance to ensure the environmental sustainability.