Greater Performance in a Smaller Package
Micropump ® has launched its new I-Drive ® electro-magnetically driven pump, offering a significantly smaller package size without sacrificing power or capacity.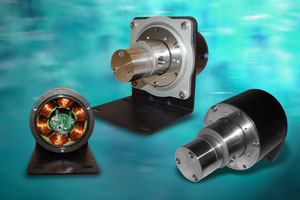 This innovative design utilizes several unique features, including over-molded NdFeB magnets, next-generation surface mount technology, and an enhanced heat-sink, all of which lead to a smaller, more reliable, and better performing drive and pump/drive assembly.
The new I-Drive ® combines a pumphead, a brushless DC motor, and an electronic controller into a single, compact unit that provides outstanding functionality and delivers smooth, pulseless flow. In this unique patented design, the 40W or 70W motor drives the pump electromagnetically, eliminating all physical contact with the motor. This means that there are absolutely no moving parts in the drive unit, leading to outstanding service life. The thermal and overload protected electronic controller provides variable speed drive options of 0-5 VDC, 4-20 mA remote control signal, or local manual control. Mounting options include a motor flange attachment or a removable bracket.
Available in standard or custom OEM configurations, the I-Drive® has a flow rate up to 3.2 L/min (0.85 gpm) and can handle a maximum differential pressure of 7 bar (100 psi). The simplicity of the built-in speed control and the tachometer output signal allows easy integration into PLC- or PC-controlled machines or end user installations. The I-Drive carries CE, LVD, EMC, and UL safety approvals; the enclosure is IP55 rated.
Established in 1960, Micropump Inc. is the originator of magnetic drive gear pump technology - the "leak-free" pumping solution. Today, Micropump is the market leader in sealless, low-flow gear pumps offering standard models, configure-to-order options, and custom solutions. Specializing in OEM and industrial pump applications where precise fluid control is required, Micropump combines state-of-the-art manufacturing with unparalleled engineering expertise to meet its customers ever-changing fluid handling needs.
With headquarters in Vancouver, WA, and subsidiaries, Micropump, Ltd., in England, Ismatec SA in Switzerland, and Ismatec GmbH in Germany, Micropump supplies products globally. To support its customers everywhere, Micropump provides a worldwide network of distributors and an extensive staff of qualified professionals who are committed to customer care.
Micropump is a unit of the IDEX Corporation. IDEX is a world leader in positive displacement pump technologies and other industrial products that are sold to a variety of customers and industries. IDEX acquired Micropump in 1995, joining an already extensive array of proprietary fluid handling and engineered products that enjoy leadership positions in niche markets.