Goulds Pumps Introduces New ISO Magnetic Drive Process Pump
Seneca Falls, NY-Goulds Pumps, one of the fluid businesses of ITT Industries, has introduced a new line of ISO magnetic drive process pumps. The pump was developed utilizing the combined expertise of ITT Richter Chemie-Technik (Germany), Vogel Pumpen (Austria), and Goulds Pumps (USA) research and development engineers to create the optimum sealless pump. Numerous applications for the product exist in process fluid services throughout the chemical, paper, and general industries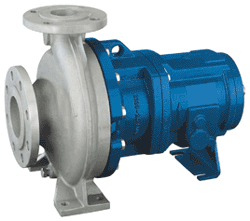 ICM
The ICM has been designed for flows up to 1,760 GPM (400 m³/h) and heads to 685 Feet (210 m) at 3500 rpm. Standard operating pressures are up to 232 psig (16 bar) with options for 362 psig (25 bar). Operating temperatures range from –40 to 550°F (–40 to180°C), optionally to 536°F (280°C).
The ICM is specifically designed to pump difficult fluids such as, corrosives, ultra-pure, and toxics liquids. Its sealless, sturdy design combines with a wide variety of wetend materials (Stainless Steel, Hastelloy, ductile iron, Alloy 20 and titanium) to provide a reliable pump which maximizes service life.
The ICM series completes the range of Goulds process pumps. Plant operators can now choose magnetic driven and mechanically sealed pumps of metal or plastic lined design, both to ISO and to ASME/ANSI standards.
Modern technologies such as the FEM Finite Element Method and CFD Computational Fluid Dynamics have been utilized in developing the ICM.
The bearings are chemical and abrasion resistant Silicon Carbide (SSiC). The proven SAFEGLIDE® PLUS dry run protection can be provided. In the case of bearing failure, the wetted rotor cannot come in contact with the separating can nor will larger SSiC parts get out of the cartridge. That means that the separating can – being the most important sealing towards the atmosphere – remains on the safe side.
There are no welding joints exposed to the pumpage: The can is homogenous material, the wetted surface is smooth and resistant to corrosion. A moulded-in bead prevents medium vortexing in the rear can, which in case of solid contents could erode the can.
Other features include:
Integrated connection provisions for a variety of pump monitoring

Optional Hydrovar® and PumpSmart® flow control equipment

Inducer technology to overcome insufficient NPSHa conditions
External plain bearing flushing for liquids containing solids or crystallizing media
Pump is designed for easiest maintenance: few subassemblies, no need of special tools, no need of alignments
ITT Industries, Inc. (www.ittind.com) is a global engineering and manufacturing company with leading positions in the markets it serves, generating 1999 sales of $4.6 billion. ITT Industries is the world's premier supplier of pumps, systems and services to move and control water and other fluids. The company is a major supplier of sophisticated military defense systems, and provides advanced technical and operational services to a broad range of government agencies. ITT Industries also produces connectors, switches, keypads and cabling used in telecommunications, computing, aerospace and industrial applications, as well as network services. Further, ITT Industries makes industrial components for a number of other markets, including transportation, construction and aerospace. Based in White Plains, New York, ITT Industries employs approximately 37,000 people around the world.
In addition to the New York Stock Exchange, ITT Industries' common stock is traded on the Midwest, Pacific, London, Frankfurt and Paris exchanges.