Godwin Pumps Hosts SABIT Guests
Godwin Pumps hosted this week a group of professionals from several Central Asian countries, participating in the Special American Business Internship Training (SABIT) program.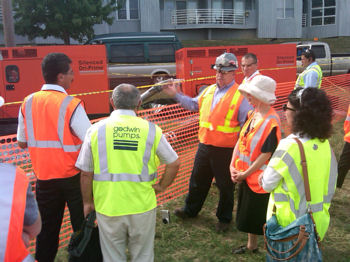 Godwin Pumps
"This is the third time Godwin has hosted a group from the former Soviet Union," said Per Ohstrom, Vice President of Marketing. "We continue to form business relationships with countries in the region."
The municipal water infrastructure program seeks to build partnerships and provide technical assistance by training executives from the Eurasian water resource management industry. Eighteen delegates, selected by the US Department of Commerce, spent one month in the US and traveled to various cities wastewater facilities and equipment manufacturers.
Participants heard presentations about the Godwin Dri-Prime pumps, as well as the Flygt range of submersible pumps, mixers and other products for municipal water and wastewater. There was also a field visit to a sewer bypass pumping application.