Global Submersible Pumps Market to Be Worth More Than USD 12 Billion by 2020
Worldwide market for submersible pumps is forecast to reach USD 12.2 billion by 2020, growing at a compounded annual rate of 5.4% during the period 2015 to 2020. According to MarketsandMarkets, factors such as growing percentage of urban population, rapid industrialization, and huge investments for infrastructure development will drive demand for submersible pumps across the globe.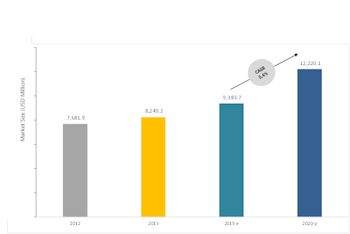 Submersible Pumps Market Size, 2015 – 2020 (USD Million)(Image: MarketsandMarkets)
According to MarketsandMarkets, Asia-Pacific will continue to lead the global market consistently occupying more than 40% share in the next five years. Apart from Asia-Pacific, high growth markets for submersible pumps include Middle East & Africa and North America. Continuous investments being made in these regions towards modernizing existing water supply, and development of sewage system, coupled with growing process industries, the market for submersible pumps is bound to witness steady growth. Demand from Saudi Arabia, South Africa, India, Indonesia, and China, is expected to contribute quite strongly to the growth of the global submersible pump market. Key manufacturers and suppliers in the pumps market are expanding into these territories to take advantage of opportunities by contracts, partnerships, joint-ventures, mergers, and acquisitions.
As migration from rural areas to urban habitats continues to surge across much of the developing world, existing civic infrastructure is finding it difficult to cope with increasing demand for water sourcing, supply, and treatment amenities. This is one of the key factors driving growth of submersible pumps market. Applications such as water & wastewater treatment, mining, construction and oil production will drive most of the demand for submersible pumps across both the developing as well as the developed markets. Growing demand from subsea applications in the oil and gas industry too, in addition to regular demand from onshore sites, will drive the market growth.