Giant Pumps for Great Britain
The KSB Group is in the process of supplying SEZ hydraulic systems with drives for six huge concrete volute casing pumps for the "St. Germans Pumping Station" replacement project.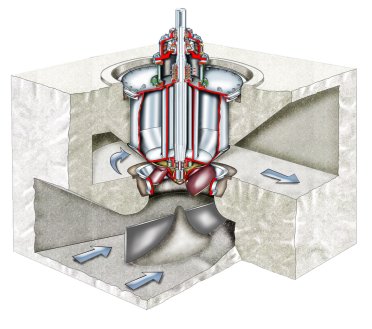 With a diameter of 2.65 metres, the impellers produced for the St. Germans Pumping Station will be the largest ever built by KSB. (By courtesy of Bosman Watermanagement B.V., NL).
The new structure, situated seven kilometres south of King's Lynn in Cambridgeshire, will replace the 70-year-old like-named pumping station, which no longer meets modern flood protection standards. Each pump will raise some 17,000 litres per second to a head of roughly five metres.
Their impellers, with a maximum diameter of 2.65 metres, will only have to turn at 120 revolutions per minute. Each unit will have a drive rating of 1250 kW. The new pumps' casings will be made of concrete instead of metal.
St. Germans' operators attach utmost importance to high efficiency and, even more so, to operating reliability for decades to come. Even after a very long time in service, the hydraulic systems must remain free of cavitation-induced damage. Since comparable pumps of this size have never been installed before, a 1:7 scale model pump was built and intensively tested in advance. Delivery of the components is anticipated for the summer of 2007.