Giant Pump for Mongolia
In mid-August, the KSB Group supplied the largest slurry pump ever built worldwide to a copper mine in Mongolia. The Erdenet copper mine is situated in the province of Bulgan, around 400 km away from Ulaanbaatar.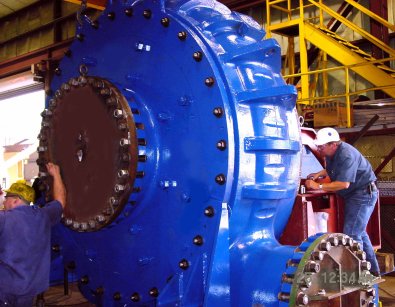 The pump set is a LSA-84 type slurry pump built by KSB's U.S. subsidiary, GIW. Capable of handling 15,000 cubic metres per hour, it pumps the sludge and rock mass left over from the copper production process and transports it to the tailings pond.
The pump is equipped with a 3000-volt variable speed drive rated at 6,000 kW which is connected to the pump via a gearbox. Thanks to the frequency-controlled operation, the speed and pumping capacity can be matched to fluctuating tailing volumes. The pump material mostly used is "Gasite WD28G", an especially wear-resistant white cast iron developed by GIW.
Mining is one of the largest and most important industries in the People's Republic of Mongolia and is currently experiencing an economic upward trend. With new technologies such as those applied in the KSB pump, the mine operators aim to increase the mine's production output.
KSB was awarded the contract worth over one million euros thanks to their proven track record: the customer has already gained good experience with KSB-built submersible borehole pumps.