GEMÜ: More Flexibility, Precision and Ease of Maintenance for Filling Processes
The ever-increasing variety of beverages, liquid foodstuffs and pharmaceuticals presents major challenges for plant operators and plant designers. Manufacturers are placing more and more emphasis on customized solutions when it comes to container shapes, in order to stand out from the competition. This also applies to plant design. Maximum flexibility is often incompatible with low conversion and maintenance costs.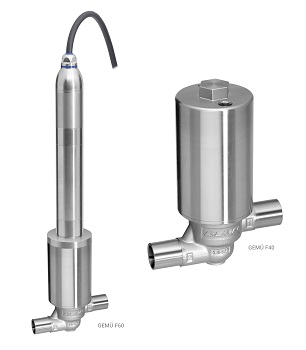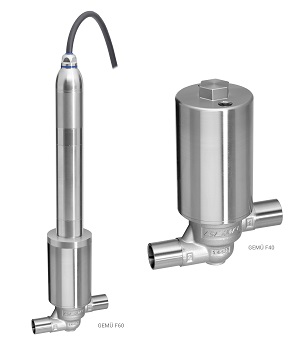 Filling valve platform (Image: GEMÜ)
The valve specialist GEMÜ is reacting to these increased requirements by bringing an innovative filling valve platform to the market. It is based on the GEMÜ PD design that won the "Achema Innovation Award". This new sealing concept comprises a highly resistant plug diaphragm (PD) made of modified PTFE (TFMTM). This enables hermetic separation of the actuator parts and the product area, a high number of switching cycles and extremely precise dosing. At the same time, the patented cartridge spare parts system makes maintenance very simple and fast, eliminating long downtimes. The valves are FDA- and USP Class IV-compliant and meet the requirements of "Hygienic Design" and the Food Contact Materials Regulation (EC) No. 1935/2004. The GEMÜ filling valve platform currently comprises a pneumatically operated GEMÜ F40 filling valve and a motorized GEMÜ F60 filling valve.
The pneumatically operated GEMÜ F40 filling valve meets the high standards expected of an aseptic valve for use in the pharmaceutical and foodstuff industries. High Kv values and precise, fast activation in conjunction with a compact design mean that the GEMÜ F40 filling valve is suitable for any pneumatically operated filling processes. Where necessary, a variety of accessories from GEMÜ s wide range, such as a stroke limiter or positioner, can be adapted for use with the GEMÜ F40 filling valve.
The GEMÜ F60 filling valve can be actuated in real time and is controlled electronically, meaning that it will be significantly easier for users to adjust or rearrange the filling machine when changing the medium or filling container in the future. By precisely following freely programmable filling curves, it is possible to implement optimal quantity control and filling speed for each medium and filling container. The servo actuator is particularly impressive thanks to its high positioning accuracy of up to 10 µm and a travel speed of up to 200 mm/s. A controller can be used to connect the motorized filling valve directly to the software-controlled central machine control for the filling machine. This makes it particularly suitable for use in linear or circular fillers, for filling medicinal products or for filling infusion bags. The GEMÜ F60 filling valve generates no exhaust air; as a result, it can even be used in cleanrooms or insulators.
Together, the GEMÜ F40 and GEMÜ F60 filling valves represent the foundations of the new GEMÜ filling valve platform. The range is currently being individually expanded in order to create a modular platform that can be combined with individually designed filling stations.