Gear Pump Range Extended
The Liquiflo 3 Series range of external gear pumps has recently been extended following the introduction of the 39 Series pump. This new model can be supplied with either leak-free magnetic couplings, conventional mechanical seals or packing.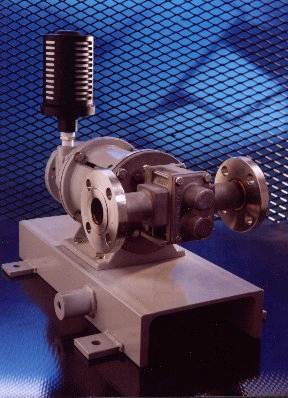 Like the other models in the Liquiflo range, the 39 Series delivers very accurate and pulse-free flows, so it is ideally suited to metering applications as well as low flow/high pressure liquids transfer duties. The pump, which delivers flows up to 80 lit/min at differential pressures up to 7 bar, can be close coupled to electric motors or mounted on a base plate with a flexible coupling and a motor.
The 3 Series of pumps are available with a wide choice of seals, in a variety of materials and with options for trimming the gears to cover high viscosity or high temperature applications. These features, plus a choice of coatings which extend the life of the pumps wearing parts, means regardless of how arduous or difficult the application is, the 39 Series can be tailor-made to suit.
The unit pictured is a magnetically coupled 39 Series pump complete with air motor which has been used to return condensate from a flare stack.
This version has tungsten carbide coated shafts due to the low viscosity of the solvents being handled. It is designed to handle a variety of volatile organic solvents including acetic acid and ethyl acetate and is fitted with an air motor due to the hazardous nature of the location where it is operating.
The pump will be driven by an on-site nitrogen supply and the motor is fitted with a special exhaust silencer to reduce the noise level to 81 dba.
Liquiflo 39 Series pumps are available in stainless steel and Hastelloy C bodies, with a wide choice of gear, wearplates and bearing material.