Gear-Drive Mixers from Neptune
Neptune Mixer Company announced that it proudly offers a range of gear-driven portable mixers that provide dependable performance in a wide variety of mixing/blending applications, from wastewater treatment to batch chemical preparation to mixing of paints, varnishes, polymers, etc.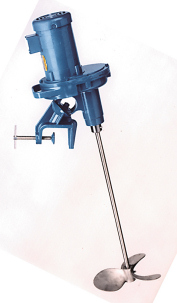 Neptune Mixer
All of Neptune s gear-drive mixers feature heavy helical gears for powerful mixing to 350 rpm. (Direct drive mixers available to 1,750 rpm.) Clutchless construction ensures long life and slip-free operation, and the grease-filled gearbox eliminates leaking and the danger of oil contamination of the process. Cast aluminum housings along with 316SS propellers and shafts are standard, and all shaft bearings are permanently lubricated. Neptune s gear-drive mixers are available with totally enclosed fan-cooled (TEFC), explosion-proof or air motors ranging in power from 1/3 hp through 5 hp.
Three mounting types are available: clamp or cup plate mount (Series JG), angle-riser mount (Series JGR), and flange mount with shaft seal (Series JGF). The Series JG s mounting clamp has an adjustable angle of entry by indexed ball-and-socket design to achieve various process results. The angle-riser mount of the Series JGR provides a fixed 10° angle of entry. The Series JGF s standard mounting flange is 6-inch carbon steel, with a flange stuffing box rated to 15 psi. Optional flanges are available in carbon steel or 316SS to 14-inches.