Fristam Powder Mixers Dissolve Ingredients of Energy Drinks
The Fristam Powder Mixer has proven itself to be an alternative to conventional mixers such as agitators, tri-blenders or venturi systems when processing energy drink applications. Its common knowledge that besides water and carbonic acid, energy drinks also contain caffeine and taurine. As both of these ingredients come in powder form they must be blended into a base liquid during production.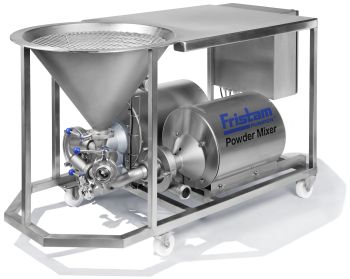 Fristam powder mixers from the PM series are multi-purpose blenders (Image: Fristam Pumpen KG (GmbH & Co.))
Combining pumping and mixing into one compact system, the Fristam Mixer has reduced batch times by up to 90 % for this particular application and created a fully homogenous mix of powdered ingredients into a fluid stream. Therefore, saving the manufacturer both time and money by installing a more efficient and cost-effective mixer.
Throughout the food and beverage industry several vital criteria need to be met in order to achieve the perfect blend when mixing liquids and powders. Firstly, the end product must have a consistent and even texture. This can only be achieved by producing a totally homogenous blend which is free from lumps, agglomerates, "fish eyes" or mottled surfaces, which must be reproducible across all batches. Secondly, mixing time is also another important factor to consider as it's vital that manufactures invest in a unit which can reduce mixing times and increase efficiency. The Fristam Powder Mixer can meet both parts of this vital criteria as, depending on the particular additives mixing can be reduced by up to 90 % for this type of application whilst also ensuring product quality is fully homogenous across all batches.
How does it work
Perfect dissolution in energy drinks production is achieved by combining a self-priming centrifugal pump with a shear pump. The powders which are mostly sugar, caffeine, taurine, citric acid and stabilizers such as hydrocolloids, pass through a funnel into the liquid product stream and are homogenized with the help of the shear pump. The self-priming centrifugal pump mounted below the hopper produces a preliminary blend of the solid and liquid components. The subsequent final homogenization takes place inside the shear pump as the product exits the unit. As standard, the powder mixers consist of a tubular frame on mounting feet, a funnel, ergonomic table, manual butterfly valves and connecting pipes. All powder mixers are fully CIP and SIP capable. They can be integrated into fully automatic production lines without any problems. For this purpose, Fristam supplies the necessary control valves and adapters; however, their use as mobile units presents no problems either. Powder mixers are able to process up to ten tons of powder per hour, depending on the viscosity of the product, the size of the pump and the homogenizer, drive power and pipe cross-section. Powder mixers in different sizes are available for test runs.