Fristam Launches New FPC Pump Series
The newly developed FPC pump series is particularly suitable for transporting media with a high gas content, for handling intermittent product inflow and for CIP-return applications. The new hybrid pump scores with a high degree of efficiency, low sound emission and low energy consumption.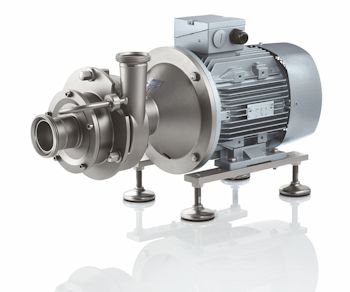 Self-priming FPC pump to transport media with gas content (Image: Fristam Pumpen KG (GmbH & Co.))
Pumping tasks for transporting liquids containing gas are standard applications in the food and beverage industry. But in such cases it is often not possible to ensure continuous inflow to the pump. With the newly developed FPC hybrid pump, Fristam now offers a series of pumps whose strengths provide the perfect solution for such applications. These pumps are ideal for CIP-return processes and are capable of evacuating pipelines on the suction side and emptying tanks and vessels. 
Modular system based on centrifugal pump series
The design of the FPC is based on the non-self-priming FP centrifugal pump series, which has been proven countless times. On the suction side, this pump combines its open impeller with an upstream rotor screw. The combination of the eccentrically mounted rotor housing and recirculating pipe, allows this hybrid pump to provide trouble-free conveyance of liquids containing gas.
Precise matching of the operating point in cases of intermittent flow is achieved by adjustment of either the impeller or the motor speed. Fristam manufactures all of its pumps from sold, premium-quality forged or cast stainless steel. Depending on specifications, the pump is equipped with a single or double mechanical seal, or a mechanical seal with flush, in whichever material combination suits the application. The materials used to make the seals are FDA-compliant.
Optimised pumps with proven technology
Fristam has analysed and optimised the design concept of the pump with a special focus on market demands and customers' requirements. The result of this process is a powerful self-priming pump with a very high degree of efficiency and a sound level roughly on a par with that of a non-self-priming centrifugal pump, which also combines excellent hygienic attributes with highly energy-efficient IE3 motors. The maximum flow rate of the FPC pumps is about 80 m3/h, their maximum discharge pressure approximately 6 bar. With this new product development, Fristam has rounded off its range of self-priming pumps and closed the gap between traditional non-self-priming centrifugal pumps on the one hand and self-priming side channel pumps on the other.
Fristam Pumpen is exhibiting at the Anuga FoodTec in Cologne, from 24 to 27 March 2015.