Fristam Increases Sales to More than 80 million Euros
Fristam Pumpen finished its fiscal year with a new sales record. With 87 million Euros in sales, the German pump manufacturer based in Hamburg exceeded the previous year's figure by 12 %. The company's strong market position in Europe and North America had a positive effect. In terms of product lines, significant growth rates were achieved with mixers, homogenizers and pumps for non-hygienic applications.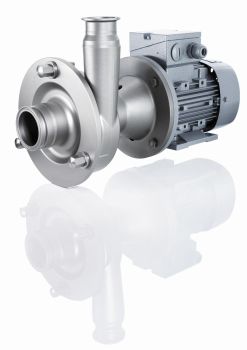 Fristam FP centrifugal pump (Image: Fristam Pumpen KG (GmbH & Co.))
In the fiscal year 2014/15, Fristam Pumpen realized its highest sales figure so far in its corporate history of more than a century, in spite of substantial geopolitical risks and economic downturns in large emerging markets such as China and Brazil. "The successful development during the past fiscal year reflects our excellent competitive position. Thanks to our global presence with production and assembly facilities in Europe, USA, China and India, we are very close to our customers and able to respond flexibly to local and regional preferences", says Wolfgang Stamp, Managing Partner of Fristam Pumpen KG. Europe and North and Latin America stand for about three quarters of the last fiscal year's total sales.
Customized solutions from a wide product range
A closer look at the individual product lines reveals a sustained demand for the stainless steel centrifugal, rotary lobe and circumferential piston pumps proven over many decades. With an 80 % share in sales, these are the core of the Fristam product portfolio. Particularly gratifying though was the lively interest shown during the last fiscal year in the new magnetically coupled pumps, a recent addition to the product portfolio. The combination of an open impeller with a magnetic coupling appeals to many customers in the processing industries who are seeking a stainless steel pump with hermetic sealing which is easy to clean, or who are basically looking for an alternative to mechanical seals. Another very positive development took place in sales of shear pumps and powder mixers for homogenization and dissolving powders in liquids. "The good business results confirm our strategy of offering our customers innovative pumping solutions tailored to their needs", Joachim Friedsch, COO of Fristam Pumpen KG, comments. "To continue our profitable growth, we concentrate on our core business and are a competent, reliable partner for our customers as an independent manufacturer of hygienic pumps".