Freudenberg Sealing Technologies Board of Management Realigns with Retirement of COO
Freudenberg Sealing Technologies announced that Chief Operating Officer (COO) Dieter Schäfer will retire June 30, 2019. Schäfer, who is widely praised for his contributions to Freudenberg's intense focus on quality and digitalization, has agreed to consult with the company for an additional two years upon his retirement.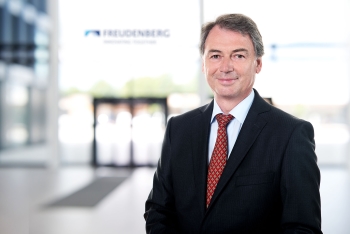 Dieter Schäfer (Image: Freudenberg Sealing Technologies)
"We thank Dieter Schäfer for his extraordinarily successful work during his nearly 20 years at Freudenberg and look forward to his continued support. The concepts of operational excellence and continuous improvement in manufacturing have been inseparably associated with him at Freudenberg Sealing Technologies. Under his leadership, we have significantly increased the company's performance capability and manufacturing efficiency – and thus product quality – through the systematic use of such methods as Lean and Six Sigma," said Claus Möhlenkamp, Chief Executive Officer (CEO). He went on to praise the COO's other contributions. "Schäfer also recognized the potential of digitalization for our company early on and, among other measures, standardized large portions of the purchasing process. With the integration of industrial software into our production processes, he laid the foundation for Freudenberg Sealing Technologies' success today. This has uniquely positioned the business group for success around the globe."
Upon Schäfer's retirement, the Freudenberg Sealing Technologies Board of Management will be restructured from four to three members. Claus Möhlenkamp will continue as Chief Executive Officer with responsibility for strategy, sales, human resources and communication. Ludger Neuwinger-Heimes will continue as Chief Financial Officer (CFO) in charge of finance, information technology (IT) and mergers & acquisitions. Dr. Theodore Duclos, Chief Technology Officer (CTO), will continue to oversee the company's innovation management, process technology, product and material development, quality management and occupational health and safety. In addition, Duclos will also take over Schäfer's responsibilities as COO and will direct the Operations, Lean, Supply Chain Management and Purchasing areas.
Schäfer studied business administration at the University of Münster and then served in professional posts in Germany and abroad for the Hoesch, Kabelmetall and Jungheinrich companies. In 2001, he joined Freudenberg Sealing Technologies, the largest business unit of the Freudenberg Group, and initially worked in various leadership roles in manufacturing and as a plant manager. In 2005, Schäfer was promoted in to head of Freudenberg's Special Sealing Products business area before taking over the largest area of the company: the Oil Seals Division, whose best-known core product is the Simmerring. Schäfer has been a member of the Freudenberg Sealing Technologies' Board of Management of the since 2012. Schäfer is married and has three adult children.