Freudenberg Announces Dr. Andreas Raps As New CEO of EagleBurgmann
Freudenberg announced that Dr. Andreas Raps was chosen as the next chief executive officer of EagleBurgmann Germany, joint venture of the EKK and Freudenberg Group. Dr. Raps, who served Freudenberg Sealing Technologies until February 29th 2016 succeeded Dr. Stefan Sacré, the company s former CEO, on March 1st 2016.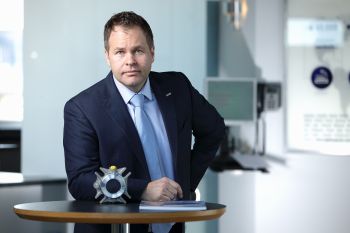 Dr. Andreas Raps takes over as CEO of EagleBurgmann Germany (Image: EagleBurgmann)
He has assumed all of the former CEOs responsibilities within the EagleBurgmann group. As a result of this decision the general management of the seal manufacturer, with its company headquarters based in Wolfratshausen, Germany, consists of Dr. Andreas Raps (CEO), Michael Stomberg (COO), and Jochen Strasser (CFO).
Dr. Andreas Raps, 41, has a track record of strong leadership both inside and outside of the Freudenberg group. This combined with his MBA from the University of Passau and his deep industry knowledge, makes Dr. Raps highly qualified to lead EagleBurgmann successfully into the future.
Dr. Raps worked for several management consultancy firms in Boston, Munich and Zurich, before joining the Freudenberg group. He obtained his PhD in Business Administration, with his thesis on "Strategy Implementation", alongside his job as a consultant. He joined the Freudenberg group in 2004 and has held various management positions within the Freudenberg Sealing Technologies group ever since. To start with he was in charge of the organizational development within Europe, to then become head of product marketing in one of the divisions. Various operative management positions, recently as the CEO of the global Division Special Sealing with 17 production locations worldwide, give him the foundation for this new leading role at EagleBurgmann. "I am really looking forward to the new challenges and am especially pleased that I can actively help shape the future development of the international EagleBurgmann group," said the new CEO, Dr. Raps. "I m honored, and I m grateful for the opportunity to lead this exceptional organization."
EagleBurgmann is a joint venture of EKK and Freudenberg and is ranked amongst the leading international companies for industrial sealing technology. The company produces and distributes a broad range of high quality products – from individual construction to large series, whether highly complex dynamic seal systems, such as mechanical seals and supply units, or special gaskets for different applications and industrial branches. The group is represented worldwide with more than 6,000 employees and over 70 subsidiaries.