Franklin Electric Broadens Fhoton SolarPAK Product Portfolio
Franklin Electric's Fhoton SolarPAK System product family is now available for cost-effective systems operating on only two solar panels up through large-scale watering systems using thousands of gallons per day. With three recent enhancements, the product line offers a variety of flow rates from two to 375 gpm and power ratings of ½ up to 10 hp.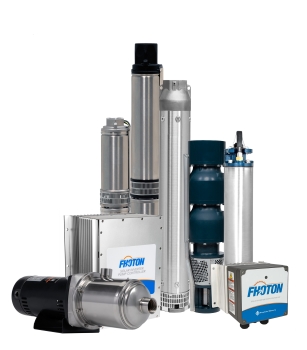 Franklin Electric Broadens Fhoton SolarPAK Product Portfolio (Image: Franklin Electric)
The new ½ hp Fhoton SolarPAK Systems operate using 48 volts, therefore minimizing the number of panels required to run the system while producing flow ranges from two to 20 gallons per minute. In addition, the new 5-10 hp Fhoton SolarPAK Systems provide a high-flow option for faster tank-fill and significant water output while producing flow ranges from 10 to 375 gallons per minute. Lastly, the Fhoton SolarPAK is now designed to provide water in pressure boosting and water transfer applications with surface pumps.
The Fhoton SolarPAK System features a Franklin Electric submersible pump and motor, and the Fhoton solar controller, in one package to provide water free of electrical utility dependence to remote or "off-grid" locations or for homeowners that want to conserve energy. The controller has a compact modular design, can drive a broad range of submersible and surface motor types, and can be used in a new solar array or retrofit to an existing array in many cases, providing added application flexibility.