Foundation Stone Laid For New Production Facility
On 14 February 2008, the foundation stone for a new production shop costing around € 40m was laid at KSB's Frankenthal factory.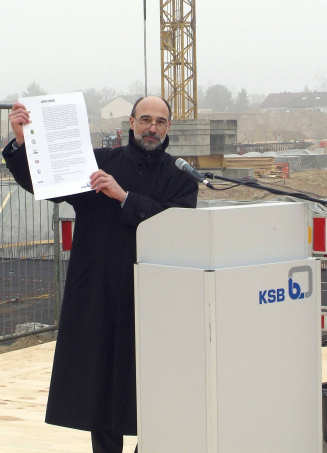 KSB Board of Management member Dr. Peter Buthmann welcoming guests to the laying of the foundation stone of the new production facility at Frankenthal.
The reason for the investment is the worldwide trend towards power station units with outputs of up to 1000 MW. In order to achieve a high efficiency in power station units of this magnitude, the plants operate at very high pressures and temperatures. There has not been much demand for pumps capable of working under such taxing conditions in the past, but future demand will steadily increase.
In his welcoming address, member of the KSB Board of Management Dr. Peter Buthmann said that the project represented the largest single investment ever made at the Frankenthal factory. "It will help secure the future of the site and of the many people that work here."
The new building in Frankenthal is part of KSB's € 70m total investment in its three German production sites. In Halle on the river Saale, the pumps and valves manufacturer is investing € 18m in a new assembly shop including test facility. It will be used for manufacturing large water pumps. Extensions to existing buildings with a value of some € 12m are being built at KSB's factory in the Upper Franconian city of Pegnitz; they will be used for products for the industry and energy sectors.