FMC Technologies and Sulzer Pumps Ltd Complete Qualification Testing of New Subsea Pump
FMC Technologies, Inc. and Sulzer Pumps Ltd are collaborating in subsea applications. Together, the two companies have developed a powerful new multiphase pump system optimized for harsh subsea environments.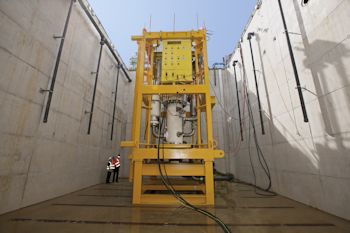 FMC Technologies and Sulzer Pumps Ltd complete qualification testing of a new 3.2 megawatt, 5,000 psi multiphase pump. (Image: Sulzer)
The new pump system leverages Sulzer Pumps' field-proven pump hydraulics with FMC Technologies' advanced, high-speed permanent magnet motor technology and subsea system design and integration experience.
The helico-axial type pump is powered by a 3.2 megawatt permanent magnet motor and is capable of withstanding pressures up to 5,000 psi. By using permanent magnet motor technology, less maintenance is required and greater speed, efficiency and power can be achieved providing end-users with more operational flexibility for subsea processing.
"The collaboration between FMC and Sulzer Pumps Ltd has resulted in what we believe to be the most powerful, efficient, and flexible subsea pump system available on the market," said Rob Perry, Director of Subsea Processing at FMC Technologies. "The industry has been clear," he explained. "They want more energy on the mudline to support their efforts to boost production and improve economics, and I am happy to say we have delivered a solution." Full qualification testing of the subsea pump unit was completed earlier this summer at Sulzer Pumps purpose built test facility in Leeds, UK.