Flygt Launches Clog-free High-head Pumps
In 1999 ITT Flygt introduced the N-pumps for efficient, reliable wastewater pumping. Now the product range was extended by new pumps with the same self-cleaning N-technology, 3153 and 3171, suitable for low-flow, high-head situations.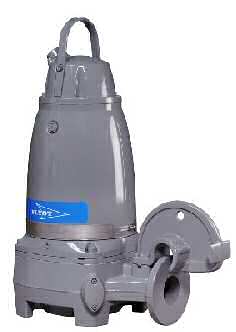 ITT Flygt N-pump (Source: Flygt)
Conventional pumps with a channel impeller gradually lose efficiency and consume more power as the impeller becomes clogged. In this case, pumping efficiency is restored when the pump is cleaned by back flushing during shut down.
The self-cleaning, clog-free N-pump solves the problem. Its unique, semi-open impeller, combined with a relief groove in the volute, has been proven to reduce the risk of clogging and maintain pumping efficiency, even under the worst conditions.
This patented combination provides a self-cleaning flow path through the pump, greatly reducing the risk of clogging and making the N-pump series an ideal solution for high-efficiency pumping over long duty periods. The result is lower overall energy consumption, which reduces the lifetime cost of a pumping operation.
Flygt's new super high-head pumps 3153 and 3171 have a maximum discharge head of about 90 meters (or 300 ft). They provide optimal performance for applications with a high head and low flows. Clients who opt for a super high-head pump can choose a smaller pump, too, which means lower installation costs and reduced energy consumption.
These solutions are already in service at pumping stations around the world. Flygt recently sold the 10,000th 3153 pump, and continues to expand its offering of N-pumps for an ever-wider range of applications.
About ITT Flygt
ITT Flygt (www.flygt.com) is a leading supplier of submersible pump and mixer solutions. The products are used in municipal wastewater treatment, industrial effluent handling, for general dewatering duties at construction sites and mines, and for process liquid handling, among others. Flygt has 44 wholly or partly owned sales companies and is represented in more than 130 countries. The company has approximately 4000 employees of which 1500 are based in Sweden. In 2003, ITT Flygt had a turnover of over USD 736 million. ITT Flygt is a subsidiary of ITT Industries, Inc, USA. The quality system is approved according to the ISO 9001 standard and the main factory in Sweden is certified according to the ISO 14001 international environmental standard. ITT Flygt is proud of being a founder of the international award, the Stockholm Water Prize, as well as national sponsor of the Swedish Stockholm Junior Water Prize.
About ITT Industries
ITT Industries, Inc. (www.itt.com) supplies advanced technology products and services in key markets including: fluid and water management including water treatment; defense communication, opto-electronics, information technology and services; electronic interconnects and switches; and other specialty products. Headquartered in White Plains, NY, the company generated $5.63 billion in 2003 sales and employs approximately 39,000 people around the world.
In addition to the New York Stock Exchange, ITT Industries stock is traded on the Midwest, Pacific, Paris and Frankfurt exchanges.