Flux Intensifies Activities in India with New Sales Partner Ruchak Enterprises
India also ranks as one of the most important emerging markets for Flux-Geräte GmbH. The Maulbronn company has previously been represented in India by several partners in various locations for many years.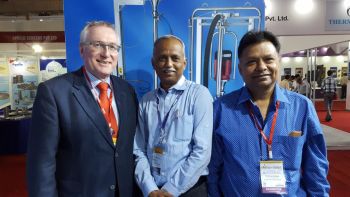 Dr. Jörg Dassow (Flux), Jayesh Shah (Ruchak Enterprises) and Kiran Kadam (Flux) after agreeing the joint working relationship at the ChemTech trade fair in Mumbai (Image: FLUX-GERÄTE GMBH)
Flux-Geräte India, the subsidiary company of Flux-Geräte GmbH with seat in the conurbation of Mumbai-Pune and Ruchak Enterprises in Ahmedabad will work together in future and have already signed a declaration of intent to this effect.
Ruckak Enterprises in Ahmedabad is a leading company for the sales and service of industrial plant and acts as a wholesale trader for various brands. "With their pronounced customer focus, Ruchak Enterprises are the ideal service partner for Flux-Pumps India", according to Dr. Jörg Dassow, Flux General Sales Manager and Director of Flux Pumps India.
In future Ruckak Enterprises will provide highly qualified sales and product consulting as well as a comprehensive after-sales service for numerous Flux products. These include drum and container pumps for highly-viscous media, the Viscoflux family, flow meters and the extensive ranges of accessories and spare parts. Ruckak Enterprises exclusive sales territory comprises Ahmedabad and a surrounding area within a radius of 100 kilometers. With its 5.6 million inhabitants, Ahmedabad is the fifth largest city in India and at the same time the economic hub of Gujarat in Western India.