Fluid Treatment Company Profits Soar 53 Percent
Companies involved in fluid treatment and control are increasing sales and earnings at an impressive rate this year. The average growth in earnings has been 53 percent.
This is the recent finding reported in Fluid Treatment and Control: World Markets. The following companies are large players with more than half of their revenues generated in the fluid treatment and control business.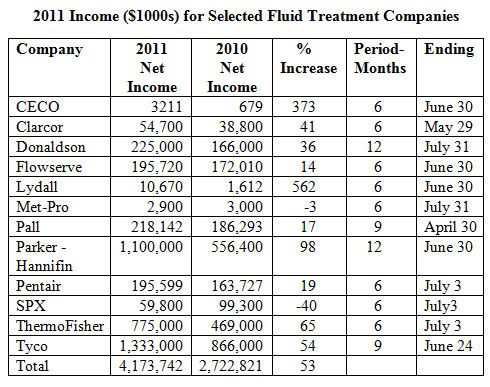 Only two of the companies did not report healthy increases for 2011 to date compared to 2010. In the case of Met-Pro earnings were flat but the company had a record second quarter for new order bookings. The SPX decline was due to order slowdown for high margin dry cooling systems and not in fluid treatment and control.
Nearly half of the Lydall income was from discontinued operations, but even with that deducted, the gains were impressive. Parker Hannifin profits nearly doubled compared to last year. Thermo Fisher enjoyed a 65 percent increase. Clarcor net income rose 41 percent. Donaldson was not far behind with a 36 percent gain.
The demand in Asia for pumps, valves, filters and instrumentation is growing rapidly. There is a big market for air pollution control in both new and existing power, steel and chemical plants. Infrastructure investment is accelerating. New municipal water and wastewater plants are being constructed in many Asian countries to meet the demands of an increasingly urban population.
Thousands of companies participate in the $381 billion fluid treatment market. The top company accounts for only one percent of the revenue.