Flowserve Wins Award
A pump repair facility maintained by Flowserve Corporation and located on the Eastman Chemical site in Kingsport, Tennessee was presented a "Supplier Excellence" award through the "Eastman Supplier Excellence Program." The award was presented on June 2, 2003 in recognition of the facility's "Outstanding Quality Performance as a Supplier" during 2002.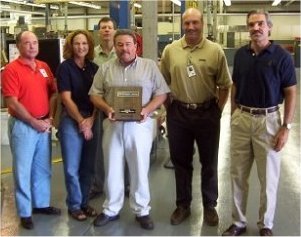 Eastman Chemical
Brian Miller, Eastman's contract services superintendent, and Skip Batson, procurement manager, presented the award during a recognition luncheon for the on-site Flowserve team. In a field of more than 3,200 suppliers, Flowserve has been acknowledged as a leading service and equipment supplier for one of the largest chemical processing complexes in the United States.
The Flowserve facility began operations at the Eastman Chemical site in March 1997 as a Durco ANSI pump repair facility. Since that time, the facility has expanded its role and is now repairing a variety of rotating equipment including multistage vertical pumps, gear pumps, diaphragm pumps, vacuum pumps, gearboxes, and blowers. Flowserve currently employs nine full-time employees at its Eastman service and repair facility.
While the concept of on-site repair facility by a manufacturer was new for both Eastman and Flowserve in 1997, both companies now agree its creation has been beneficial. Frank Statum, Flowserve's operations manager for the Kingsport site, contributes the success to the dedication of his team members who take pride not only in their specific jobs but also at developing long-term professional relationships with Eastman's plant personnel.