Flowserve Pump Division Publishes Hydrocarbon Processing market brochure
The Flowserve Pump Division has published a new full color, 16-page Hydrocarbon Processing market brochure that showcases the world's most complete line of API 610 pumps with the widest range of hydraulic coverage, pressure and temperature capabilities.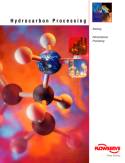 Hydrocarbon Processing Bulletin
The bulletin highlights the features and benefits of Flowserve's hydrocarbon processing pumps, which are designed for such refining and petrochemical processing services as: fluid separation, high temperature feed, power recovery and tank farm transfer. Also featured are special purpose pumps and systems including: cryogenic liquid expanders for LNG production, reactor circulating systems for ebullated catalyst bed hydrocrackers, and hydraulic decoking systems used in delayed decokers.
For more information about Flowserve's new Hydrocarbon Processing brochure or any Flowserve hydrocarbon processing products contact:
Flowserve Corporation
Pump Division
4978 Riverton Rd.
Dayton, OH 45414
Telephone: (800) 728-7867
Fax: (937) 890-5314
E-Mail: fpdinfo@flowserve.com