Flowserve Pump Division introduces new Mark III In-Line Chemical Process Pump
Flowserve Pump Division is introducing its new Mark III In-Line Chemical Process Pump. With exclusive design features, this space-saving pump offers improved pump reliability and extended mean between planned maintenance (MTBPM).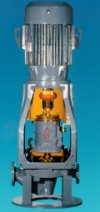 (Source: Flowserve)
The Mark III In-Line Pump designed with the unique SealSentry seal chambers including models with flow modifiers which redirect flow from circumferential to axial. This unique seal technology is self-flushing, self-venting and self-draining. Seal life is extended by this superior purging of heat, solids and vapors.
Designed to exceed ASME (ANSI) B73.2M criteria, this chemical process pump also features the Standard Mark III a power frame with micrometer impeller adjustment. This adjustment allows accurate and rapid setting of the clearance to the rear cover. Other unique features of the Mark III In-Line include:
A reserve vane impeller for consistent high pumping performance
Flowserve´s C-Plus precision motor and pump shaft alignment system for alignment within 0.05 mm
Optional ANSI 3A power frame with three-year MTBPM guarantee.