Flowrox Wins Valve Project in Namibia
Flowrox has recently won a project delivery to HUSAB Uranium mine in Namibia which is one of the biggest uranium mines in the world. Flowrox supplies a total of 83 of 550mm hydraulically actuated pinch valves for heavy duty application in the tailings operation sector spread over 23 Km area in the desert.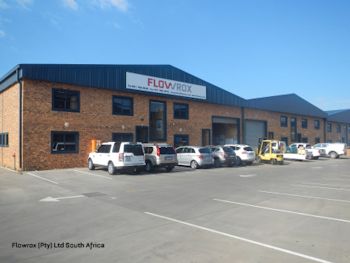 Flowrox (Pty)j Ltd South Africa
The valves will be operated with unique actuator solution whenever required by means of two mobile gasoline powered hydraulic power packs.
In addition to pinch valves, Flowrox delivers a complete project package and has already conducted both theoretical and practical competence trainings to the technical staff members, ensuring a high level of plant operability. Flowrox also supplies the required valve spare parts, enabling mine staff to carry out any service and repairs without delays if and when required. The mine is also planning to purchase service exchange valves from Flowrox to ensure smooth serviceability even in the most demanding conditions in the desert.
Besides the positive news from markets, Flowrox Pty Ltd in South Africa has a new lead as Mr. Henlo Blignaut appointed as the new Managing Director started in his position in June. He has an extensive experience in the mining, manufacturing and project/engineering environment. He sees the situation in Southern Africa area challenging but is confident about Flowrox's potential in the market. "HUSAB only partners with the premium product suppliers in this market sector and Flowrox was chosen due to our quality performance and technology. The relationship with the customer is excellent and there will be more project collaboration in the near future. This is of course very good news for us as many new mining project are put on hold and upgrades and operational capital of many companies have also been reduced. We are very optimistic about the future." Mr Blignaut says.