Flow Rate Totaliser Simplifies the Sums
A flow rate totaliser specifically designed for computing and displaying flow rates and totals from flowmeters with pulse, sine wave or frequency outputs, has been introduced by flow metering specialist TRIMEC-EUROPE.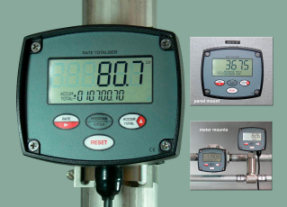 TRIMEC-EUROPE
The RT20 Rate Totaliser can be battery or externally powered and features a 6 digit large LCD total, 8 digit cumulative totaliser and 5 digit rate display.
The instrument displays resettable (batch) total, cumulative total and instantaneous flow rate in engineering units as programmed by the user. A robust IP66/67-NEMA 4X aluminium field and panel mountable housing makes the unit suitable for the most rugged applications. It also features a backlit panel enabling distance viewing at night when de-powered.
The RT20 is designed for simple PIN protected flow chart programming with English language prompts guiding users through the programming routine and so reduces the need to refer to the instruction manual. Other features include scaleable universal pulse or frequency inputs, scaled pulse output, long battery life, non-volatile memory and reverse polarity protection. Additional options to suit specific applications include a heavy duty facia protector shield, a relay board with SPDT outputs as well as flowmeter and pipe mount kits.
Other units available include battery totalisers, automatic batch controllers and a rate totaliser with 4-20mA, alarm and scaleable outputs, dual flow inputs and linearization.