First Wireless Pump Monitoring System With 24/7 Capabilities
Bell & Gossett, a leading manufacturer of HVACR pumps, has unveiled the industry's first wireless pump monitoring system capable of monitoring critical equipment operations from anywhere around the globe on a 24/7 basis.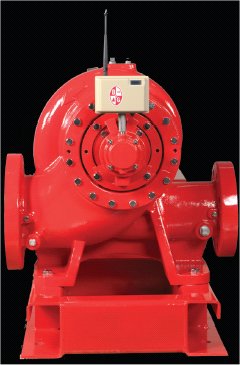 The new Watchman Wireless Monitoring System from Bell & Gossett (photo: Bell & Gossett).
Watchman™ is an online pump condition monitoring system that automatically collects, trends and displays data that can be used to significantly reduce costly downtime and service calls, and is available on B&G's new VSX Series split-case pumps.
The Watchman Wireless System monitors:
Inboard and outboard pump bearing temperatures
Inboard and outboard pump bearing vibration
Revolutions per minute (RPM)
Pump suction, or discharge pressure
Inboard motor bearing temperature and vibration
The Watchman system utilizes input from vibration, temperature, pressure and speed sensors, together with patented algorithms, to create alarms that notify users of the unit's operating conditions via cell phone, pager, e-mail, and a web-based browser. Unlike traditional online systems, the Watchman Wireless System was designed from the ground up to have a low total cost of ownership compared to traditional "hard-wired" systems.
"One of the key themes that kept coming out of our market research was that our customers wanted to know more about what was going on with their critical equipment, but they wanted a simple and affordable method to obtain that information," said Steve Schmitz, Bell & Gossett's Sr. Product Line Manager for Pumps. "This new feature will make it much easier and less costly for pump users to do predictive maintenance and help maximize equipment uptime."
Bell & Gossett, a unit of ITT Industries, is a leading manufacturer of centrifugal pumps, circulators, hydronic specialties, heat exchangers, and packaged systems for variable and constant speed pumping, heat transfer and pressure boosting.