First CCI Tokyo Grand Prize for Woman Engineers
Mika Amanuma, who works for Infrastructure Construction Department of EBARA CORPORATION (EBARA)'s, won the Grand Prize for Woman Engineers at the first CCI Tokyo Young Engineer/Woman Engineer Awards organized by Charming Construction's Identity Tokyo (CCI Tokyo).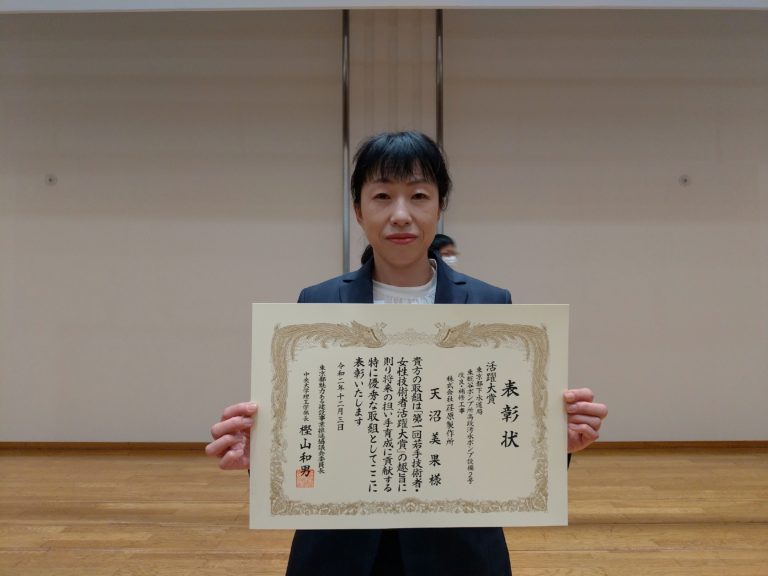 Mika Amanuma, a winner of the prize. (Image source: EBARA CORPORATION)
Background
The domestic construction machinery industry is facing the challenge of recruiting and developing young talent for the future in an era seeing the total population shrink due to a declining birthrate and a growing proportion of elderly people. This award commends the active roles played by young engineers and woman engineers at the construction sites in the metropolitan area, aiming to further promote the appeal of the construction industry, to contribute to the development of the younger generation and to promote the employment of women.
Outline
The awards recognize excellent activities that contribute to the promotion of active participation by young people and women. In the Fiscal Year 2019, 26 young engineers and woman engineers were selected to receive the Grand Prize for Young Engineers/Woman Engineers. Amanuma was commended for her active role as supervising engineer and site agent in the "improvement/repair of the Tokyo Metropolitan Government Bureau of Sewerage's Higashikojiya Pumping Station high sewage pump equipment 2," which was done by EBARA in FY2019. The goal of the project was to improve the water pumping performance of the pumps in the Higashikojiya Pumping Station in Ota-ku, Tokyo. The Higashikojiya Pumping Station is an important facility where 22 large-diameter pumps are installed. The improvement/repair of the pump equipment that is the heart of the facility plays a vital role to enable residents in Tokyo to lead safe lives.
Future plan
EBARA aims to recruit and maximize potentials of competitive and motivated employees around the world, and promote diversity as a part of its Human Resource Strategy in accordance with its medium-term management plan, E-Plan 2022. This award is very meaningful as it will add momentum to the promotion of workforces irrespective of gender not only in EBARA, but also for the construction industry as a whole. EBARA is committed to creating a more comfortable and attractive working environment for diverse people as it moves towards the future.