Fire Water Pump Package by Dynapumps for the Amrun Project
Dynapumps recently supplied a Fire Water Pump package to the Amrun project in the Weipa / Aurukun region of Western Cape York, Far North Queensland.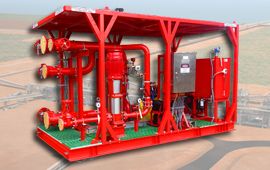 Dynapumps
The Amrun project is the construction of a range of infrastructure to support mining including a processing plant and port near Boyd Bay, a dam, tailings storage facility, roads and a ferry terminal on the Hey Riverto transport workers from Weipa to the mine. Construction for Amrun will extend the Weipa mine life by approximately 40 years while depending on production rates.
The Fire Pump included a Sulzer Pump coupled to a Welling and Crossley 6102T2 Diesel Engine via a Centax torsional coupling and Spicer driveshaft. The package was mounted on a carbon steel base plate, complete with FRP grating and canopy.