Filling and Dosing Without Sedimentation
A major challenge in dosing technology continues to be the gentle dosing of solids-laden liquids without damaging the solids. In addition, there is a risk that the solids will settle during prolonged downtimes. The material sediments. If this happens, the dosing unit becomes clogged and must be completely disassembled and cleaned. This interrupts the entire dosing process.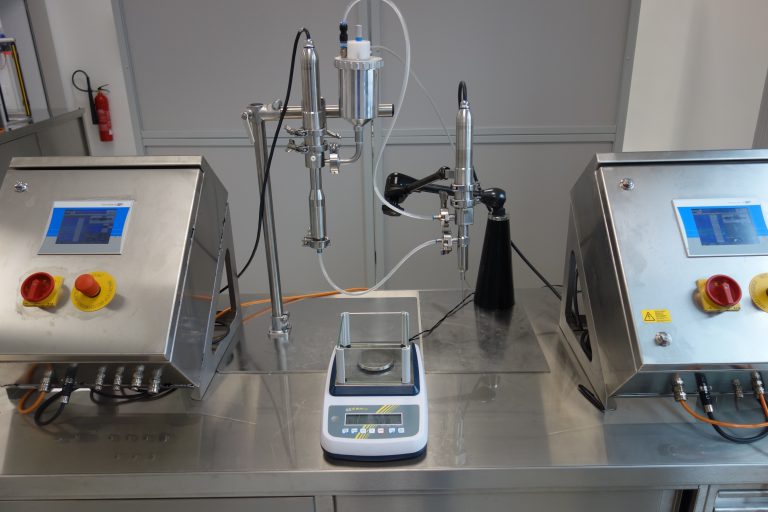 Experimental setup for dosing e-liquids with a dispenser with a circulation nozzle (Image source: ViscoTec Pumpen- u. Dosiertechnik GmbH)
ViscoTec prevents this from happening. Pharma dispensers in hygienic design, which comply with all relevant hygiene guidelines, have an additional circulation nozzle integrated. The proven progressive cavity technology enables the material to be dispensed to be circulated right into the pump housing. This means that no rinsing procedures have to be carried out before dosing. In addition, the uniform volume flow and comparatively low pressures prevent sedimentation of the solids. Due to the low shear, the solids can be dosed without being damaged.
In other technologies, however, such as peristaltic and piston pumps, the solids are squeezed or damaged by excessive pressures. In addition, with these pumps the material can only be circulated in the container and the distributor pipe, which often leads to clogging of the dosing pump. This must then be cleaned in several rinsing cycles and it takes some time for production to run smoothly again.
Advantages of the progressive cavity technology:
Solids are not damaged during the dosing process
Uniform volume flow prevents sedimentation of fillers
Reduced costs through recirculation of the suspension in the pump housing
Smooth start-up after production stoppages
ViscoTec is showcasing its products at the Fachpack trade fair from 24th to 26th September 2019 in Nuremberg, Germany. For the first time ViscoTec will also be exhibiting with a new stand design at a trade fair for the pharmaceutical and food industries.