Fifteen Percent Less Horsepower Required in Zinc Recovery Application due to Chemineer Agitators
A state-of-the-art metal recovery project requires all equipment and systems to work in perfect unison and perform to optimal efficiency.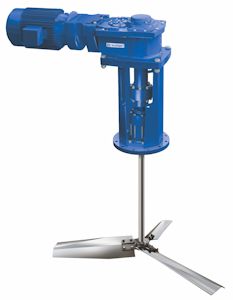 Chemineer™ Model 20 HT/GT (Image: Chemineer)
A manufacturer in the southeast United States, specializing in zinc recovery technologies, approached the Mixing Technologies group of NOV for its minerals processing application experience, robust equipment design and technical consulting capabilities. It was quickly determined that an in-depth working relationship between the two companies could ensure more effective selection, installation and operation of the mixing equipment required for this important project.
Mixing Technologies applied its engineering and technical expertise on several dozen mixing applications for this customer as well as providing consultative support regarding vessel design, system hydraulics and overall process system performance. Chemineer high-efficiency impeller technology was coupled with the reliable Chemineer Model 20 and Chemineer HT top-entry gear driven mixers in order to meet customer expectations for operational performance and long service life.
Mixing Technologies' proprietary AgSolver design software was used to properly select and size the mixing equipment that was designed and manufactured specifically for this zinc recovery process. Mixing Technologies' technical support and high quality equipment resulted in a 15% reduction in required horsepower, consistently saving the customer money from day one.