Feluwa Has Founded Australian Subsidiary
The Australian subsidiary Feluwa Pumps Australia Pty. Ltd. based in Perth/Western Australia was founded on 1st March 2015. Feluwa thus continues its goal-oriented strategic expansion.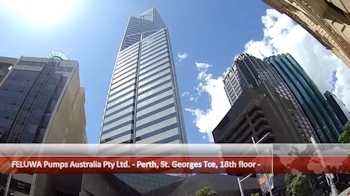 New Australian Subsidiary in Perth (Image: Feluwa)
The new company optimises customer support and project management over the whole project duration up to after sales service. As a result of the independent presence in Australia, recognition and standing of the Feluwa brand are improved. Furthermore, the increased presence in a market which offers a wide range of applications for Feluwa pumps allows for quicker identification and development of new projects thanks to the proximity to clients, planners and operators.
Moreover, spare part stocking in Australia will be established in order to guarantee considerably shorter delivery times, and service capacities for on-site installations, commissioning and after sales service will be provided.
Feluwa has appointed Alan Frost, an expert with long-time experience in the business, as Managing Director. Feluwa Pumps Australia Pty. Ltd. has entered operational business within a short time and is now available as direct contact in Australia. Feluwa has already registered positive feedback from clients and potential customers as well as an increased number of enquiries resulting thereof.