EZstrip Products Make Maintenance a 30-Minute Job
EZstrip has improved the way in which PC pumps and associated products are 'Maintain-In-Place' (MIP) making a day-long maintenance operation into a 30-minute job.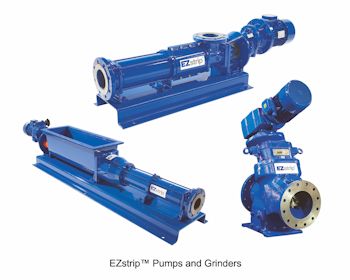 EZstrip™ Pumps and Grinders (Image: NOV Mono /Moyno)
EZstrip currently comprises a transfer pump, cake pump, and grinder.
EZstrip Transfer Pump
The EZstrip Transfer Pump provides a quick and easy way to disassemble, de-rag, and maintain a PC pump in place, reducing maintenance time by more than 93% for significant cost savings. Distinguished by a patented split coupling, EZstrip Transfer Pump offers direct access to the wear parts and rotating assemblies without affecting the operational parameters.
EZstrip Cake Pump
The EZstrip Cake Pump features a specially designed feed chamber that can easily be disconnected allowing access to the rotating assembly. The rotor can be separated from the conveyor allowing removal of the rotor and stator all within its own assembled length. This process can take as little as 6 minutes.
EZstrip TR Muncher
The latest addition to the EZstrip family is a range of grinders offering a competitive solution to solids grinding and sludge conditioning. The EZstrip TR Munchers all house the quick release access port allowing the cutter assembly to be maintained in place without removing the equipment, reducing maintenance time.