Extending the Siemens Sinamics Family With New Inverter
With the Sinamics G120C, Siemens Drive Technologies Division is extending its product portfolio for this series of inverters. The compact device has been designed for global application in industrial environments. It is suitable for operation in pumps, compressors, fans as well as mixers and extruders, but also for conveyor belts and simple handling machines.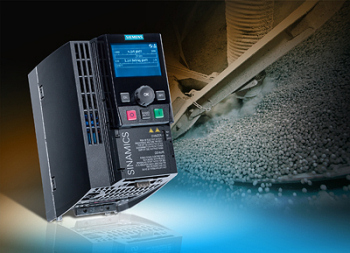 With the Sinamics G120C, Siemens Drive Technologies Division is extending its product portfolio for this series of inverters. (Image: Siemens)
The target groups are machine builders (OEMs) and also distributors who do not want to assemble an inverter modularly, but would rather buy the finished unit instead.
The G120C, with its rated power range of 0.55 to 18.5 kW, sets new standards in its class regarding compact dimensions, fast commissioning times, simplicity of operation, ease of servicing and highly integrated functionality. The Sinamics G120C has been specially optimized for applications in small control cabinets, directly on or near to production machines. These applications often require simple speed-controlled drives with a high power density and which do not take up too much space.
The compact inverter offers one of the highest power densities in its class and can be mounted directly as a module, without sacrificing power. Compared to conventional systems on the market, the inverter requires up to 30 per cent less space for installation, with up to 40 per cent higher power density. Plug-in terminals ensure swift installation. A port for inserting a memory card enables fast series commissioning. Instead of a blind cover, an operator panel may also be mounted for commissioning purposes. It can also be parameterized using a PC, via a USB interface. Standard paintwork ensures the unit is extremely robust. The inverter is designed for ambient temperatures of up to 60°C.
Each G120C has the integrated Siemens safety technology "Safety Integrated" as standard, to ensure the drives can be stopped safely. It is equipped with a double safe input ex-works, and so controls the STO (Safe Torque Off) function without requiring external devices. The G120C includes the well-established control procedures of the Sinamics platform. Sensorless vector operation enables precise, cost-effective control for the energy-efficient operation of induction motors.
The new inverter supports the Profibus bus system from Siemens. It can also be directly integrated into other widely-used communications structures via the USS field bus protocol, the RTU mode and the CAN bus. The ex-works default setting of each G120C enables direct application without time-consuming parameterization work on the field bus system.